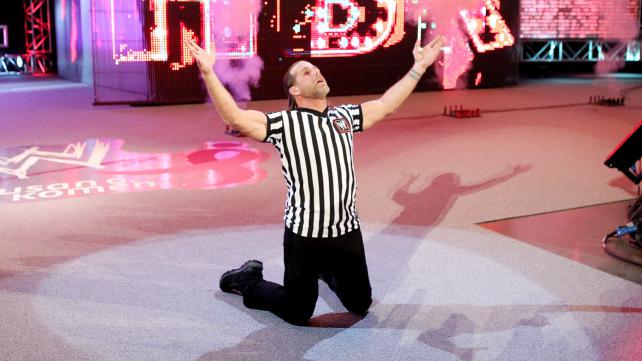 NXT brought a packed show to San Antonio on Friday night and they really needed to as well because ROH was right across town. Therefore, they started the show off with a real bang as Triple H came out and addressed the crowd. Everyone was excited to see Triple H, but it was another OG D-Generation X member that most fans were really anxious to see in action because Shawn Michaels was set to get back in the ring during the main event where he would be special referee in an NXT Title match between Drew McIntyre and Adam Cole.
This is one way to kick off a weekend. @TripleH has #NXTSanAntonio on their feet!!! pic.twitter.com/RwO82wc8vX

— WWE NXT (@WWENXT) November 18, 2017
So…they've just given me my "work clothes" for this evening…& NO, it didn't come with the shorts!!! #Thankgoodness #NXTsanantonio @WWENXT pic.twitter.com/mhoSpRB4yQ

— Shawn Michaels (@ShawnMichaels) November 17, 2017
The main event of the evening saw Drew McIntyre put his NXT Championship on the line against Adam Cole in a stunning contest between two guys on the top of their game refereed by an absolute legend. The San Antonio crowd filled the building with chants of "one more match" directed at Shawn Michaels. However, it didn't seem to work.
The crowd in San Antonio couldn't have thought that they were the first people to propose that Michaels lace up his boots once more and get in the ring. After all, this is a sentiment many hold that it would be great to see HBK lock up in the ring once more.
But the WWE Hall Of Famer made it very clear in the closing moments of the night that he had no intention of wrestling another match.
"I appreciate the sentiment of 'one more match' but after refereeing this match I can assure you that I am too old for shit sh-t," Michaels said to the crowd.
Although this might not have been the most PG Era friendly response, it certainly summed up Shawn Michaels' feelings toward the situation while borrowing an awesome line from the Lethal Weapon movies in the process.