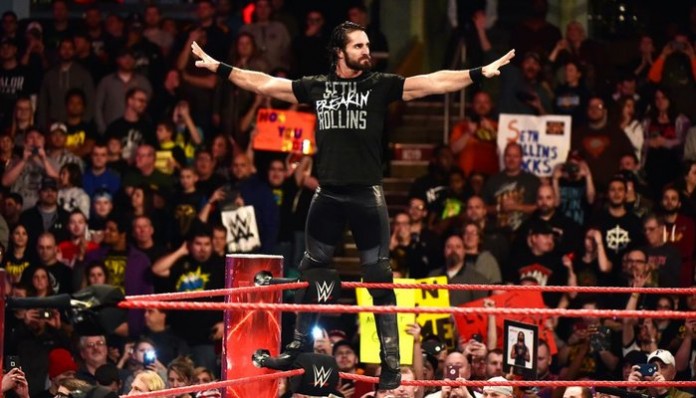 Seth Rollins had a rough year in 2016. He spent most of his time recovering from an injury, but shortly after he returned he won the WWE Championship. Unfortunately for Seth, his reign didn't last very long as his former Shield brother Dean Ambrose cashed in his Money in the Bank contract, and he managed to capture the gold minutes after Seth won it.
Fast forward to August of 2016 and Seth found himself fighting for the Universal Title on Raw, and just when it seemed like he had a shot at winning, Triple H screwed him over and helped Kevin Owens win the belt. For months now Seth Rollins has been calling Triple H out, and although Triple H has yet to confront Seth Rollins, Seth made it clear in a recent interview with Sky Sports that he's out for revenge.
"Maybe The Game, The Cerebral Assassin, the guy that wielded the sledgehammer is done and gone – we'll see if he is the man and if he has the cojones to answer me and protect his legacy. One way or another I am going to get my hands on him – whether it's in the ring, backstage or at WWE headquarters. I am going to find a way to make him pay for what he did to me. He deserves everything that comes to him and more and I would like a no disqualification match because I don't want anyone telling me what I can and can't do when it comes to getting revenge."
Although the match has yet to be officially confirmed, Seth Rollins is expected to face Triple H at WrestleMania 33, and it seems that business could be picking up for their feud in the weeks to come.
Seth Rollins has accomplished quite a lot during his time with WWE. He became the first ever NXT Champion, and later went on to win tag team gold with The Shield, and he followed up his impressive run with The Shield by joining The Authority and winning the WWE Championship. He's also the first and only man to ever cash in Money in the Bank in the main event of WrestleMania.
Although Seth's resume is impressive, he still hopefully has a long career ahead of him. When asked about his goals Seth said that he wants to be mentioned alongside names such as Ric Flair and Shawn Michaels, and he wants to be remembered as the greatest of all time.
"There is still a little climb to go and that's exciting. I want to be remembered as the greatest of all time and mentioned in the same company as Ric Flair, Shawn Michaels and Triple H. I have got a long way to go – a lot of titles to win and WrestleManias to main event – but I feel like I have a purpose and a reason to wake up every single day."
Seth Rollins was booked to compete in the Royal Rumble match on Sunday, but he lost his spot to Sami Zayn after Triple H played mind games with on Raw. However, it's rumored that the Royal Rumble could be the start of a big angle between Seth and Triple H, and you can get more on that below.
Related: Major Angle Being Planned Between Seth Rollins And Triple H At Royal Rumble