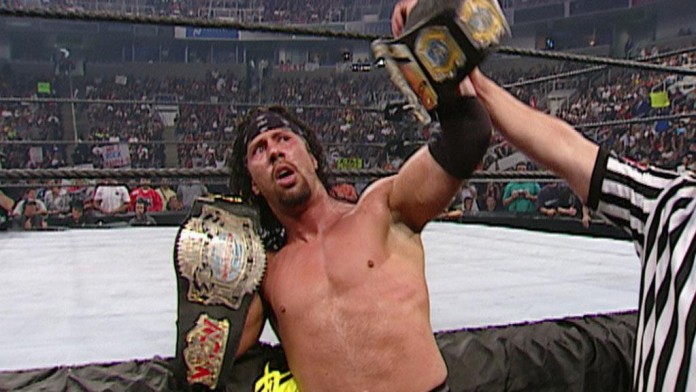 Sean Waltman no showed an IPW event over the weekend, and it was recently reported that he missed the event because he was arrested at LAX. TMZ reports that Waltman was arrested while he was going through customs and officials discovered that he was carrying marijuana and meth.
The airport police reportedly arrested Waltman on the spot, and he was later taken to the police station where he was booked for possession of a controlled substance. Police then discovered while he was at the station that he had an outstanding warrant for a prior DUI arrest.
Bail was set at $35,000 and he has since been released. TMZ reached out to Sean Waltman's rep who says that he is "fine" following the arrest.
Chris Jericho's band Fozzy has unveiled the video for their new single "Judas" which is set to be released on May 5th.
You can check out the new video along with the band's tour dates below.
May 5 – Lunatic Luau – Virginia Beach, VA
May 6 – The Revival – Canton, GA
May 7 – Carolina Rebellion – Charlotte, NC
May 9 – The Concourse at The International – Knoxville, TN
May 10 – Trixie's Entertainment Complex – Louisville, KY
May 11 – The Rave – Milwaukee, WI
May 12 – Green Bay Distillery – Ashwaubenon, WI
May 13 – KGRR Spring Bash – Dubuque, IA
May 14 – Northern Invasion – Somerset, WI
May 16 – Diesel Club Lounge – Pittsburgh, PA
May 17 – Chameleon Club – Lancaster, PA
May 18 – 89 North Music Venue – Patchogue, NY
May 19 – House of Independents – Asbury Park, NJ
May 20 – Blue Fox Billiards – Winchester, VA
May 21 – Mainstage – Morgantown, WV
May 23 – The Machine Shop – Flint, MI
May 24 – The Forge – Joliet, IL
May 25 – Fubar – St. Louis, MO
May 26 – Rocklahoma – Pryor, OK
May 27 – River City Rockfest – San Antonio, TX
May 28 – Starplex Pavilion – Dallas, TX
June 11 – Download – Donington, UK
June 13 – The Craufurd Arms – Milton Keynes, UK
June 24 – Pain in the Grass – Seattle, WA