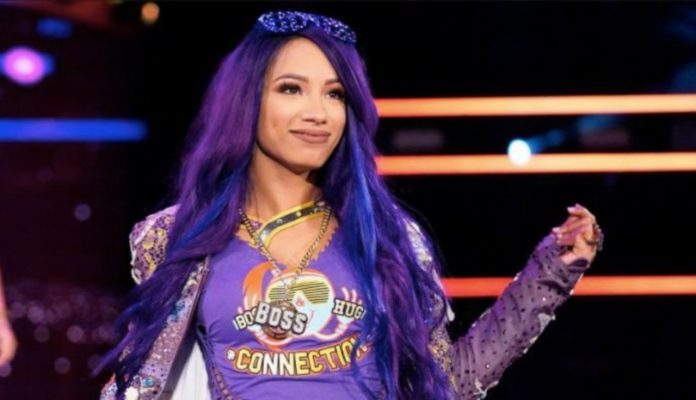 On Sunday night Sasha Banks and Bayley walked into WrestleMania 35 with the WWE Women's Tag Team Title belts, but they didn't walk out with the gold.
New champions were crowned on the Grandest Stage of Them All, as Banks and Bayley dropped the belts to The IIconics in a fatal four way match.
Banks didn't appear on Raw, and she later announced on Twitter that she had pulled out of an appearance on the Wendy Williams Show due to personal issues.
The Wrestling Observer Newsletter reports that one person high up in WWE is claiming Sasha Banks tried to quit WWE over the weekend because she felt blindsided when she found out at the last minute that her and Bayley were dropping the WWE Women's Tag Team Titles.
With the storyline being that the titles were to be defended on Raw, SmackDown and in NXT, Banks thought that the two of them would be given a strong run to establish the titles as serious belts.
The Boss has reportedly been given a few weeks to think things out before making a choice that the company thinks may be a rash decision.
Sasha Banks didn't appear on Raw this week, but she did post the following message on Twitter on Monday:
"There is something about the way life happens today that makes it hard to look ahead. There are things that make it difficult to laugh; difficult to live the way you want. There are things that make it almost impossible to trust where you are, or to believe in where you want to be. You look around and life is happening way too fast. Sometimes it feels like the moments are gone. Everything happens all at once and right away. We're marching towards a destiny we cannot understand, towards the kingdom of convenient. Then one day you look up and you can't find the meaning. Your crisis of purpose and passion is acting up, but they tell you that that's suppose to be normal. Well… I don't want normal, I want magic; cause that's the place that feels like home to me. That's the place where I remember what dreams look like, where meaning is effortless, and purpose is simple. That's the place where love still matters. I want that feeling of coming home again. I want to feel like myself…. I want that magic"
— $asha Banks (@SashaBanksWWE) April 9, 2019