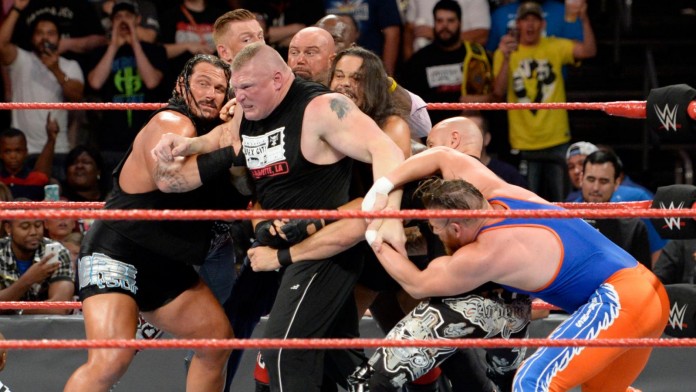 Last week Samoa Joe won a fatal 5-way match at Extreme Rules, and now he's set to challenge Brock Lesnar for the Universal Championship at Great Balls of Fire in July. Samoa Joe and Brock Lesnar met face to face this week on Raw, and the confrontation quickly got physical. The two stars had to be pulled apart by several members of the WWE roster, and Joe recently decided to send a message to Brock on Twitter.
Dropped you twice. Next time bring a blanket , you're getting slept. #andNew

— Samoa Joe (@SamoaJoe) June 13, 2017
WWE Hall of Famer Scott Hall has been working on getting into shape, and the former Intercontinental Champion is looking pretty shredded these days.
Mote recent pic. Not partying or traveling as much pic.twitter.com/0iDhRj1bpn

— Scott Hall (@SCOTTHALLNWO) June 5, 2017
WWE acknowledged Hall's ripped physique by posting the following on WWE.com:
"Hey, yo … Scott Hall is ripped! The WWE Hall of Famer and nWo cofounder turned heads on Twitter this past weekend when he showed off his incredibly transformed body. Hall, who credits much of his transformation to Diamond Dallas Page's DDP Yoga, had struggled with weight and health problems over the past several years, but has clearly turned the corner in a major way. WWE.com wishes him continued success."
On this week's episode of Still Real Radio, we're talking to former WWE World Heavyweight Champion Jack Swagger about what's next for his wrestling career, possibly going to Impact Wrestling, winning the World Title and more. You can subscribe to Still Real Radio on iTunes and you can check out the latest episode below.