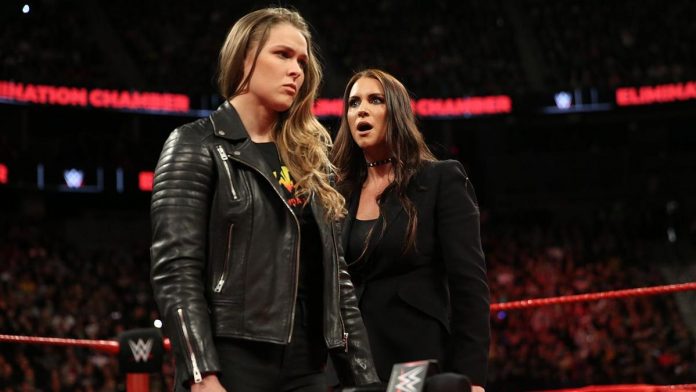 Ronda Rousey kicked off a feud with Triple H and Stephanie McMahon a few years ago at WrestleMania 31, and this year fans will finally get to see the pay off as Rousey will be facing off against Stephanie and Triple H in a mixed tag team match at WrestleMania 34.
Rousey has only been with WWE for a few weeks, but her feud with McMahon and Triple H has escalated quickly. Stephanie recently slapped Ronda, and the former UFC Champion told Yahoo Sports that the slap hurt a lot more than she thought it would.
"I've never been slapped before. Anybody who has ever been slapped tells me that it hurts more than you think. Man, when she hauled off and whacked me, my first thought was "Wow, that really hurt way more than I thought it would." Everyone was right. Slaps suck and there was a loud noise followed by the crowd's "Ooooh!" I didn't see that coming at all."
It's no big secret that Ronda Rousey is a life-long wrestling fan, so performing at WrestleMania is a dream come true for her.
Rousey says that she's going to try her best to focus on the task at hand, and she plans on working non-stop until WrestleMania 35.
"It's hard to guess what a moment like that is going to be like. I just really hope that I take the time to absorb it. When I did the short cameo at WrestleMania 31, it was very much about doing everything right and not messing up. I don't know if I'll be at the point where I can just absorb things and not be focused on the task at hand at this WrestleMania but I know I'm going to working non-stop until WrestleMania next year. Maybe by then I'll be comfortable enough to experience everything and not have to think so much about it."
Are you looking forward to Ronda Rousey's first match at WrestleMania 34? Sound off in the comments below.