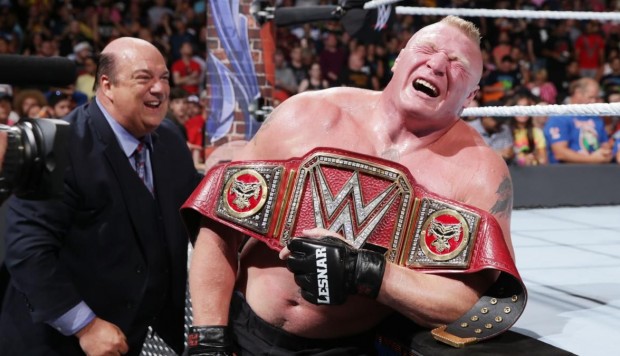 Brock Lesnar successfully defended his Universal Championship against Roman Reigns at WrestleMania 34 and the Greatest Royal Rumble, and he hasn't appeared on WWE programming since.
WWE hasn't confirmed when Brock Lesnar will be returning, but it's been speculated that he won't end up wrestling again until SummerSlam in August.
Now Sports Illustrated is reporting that Brock Lesnar is expected to lose his match at SummerSlam and drop the Universal Championship, and the end of his title reign could also mark the end of his run with WWE.
Is Lesnar does exit WWE after the Biggest Party of the Summer, then Paul Heyman is expected to leave as well, as there are reportedly no creative plans for Heyman beyond being used as Brock Lesnar's advocate.
So who could Lesnar be dropping the title to?
According to the Wrestling Observer Newsletter, the current plan is for Roman Reigns to challenge Brock Lesnar again.
However, it's important to note that Brock vs. Roman at SummerSlam is not 100 percent confirmed, and Vince McMahon could change his mind at any time.
As we saw back in April, it seemed that Reigns was finally being positioned to get a win over Lesnar at WrestleMania, but the finish was changed due to negative crowd reaction.