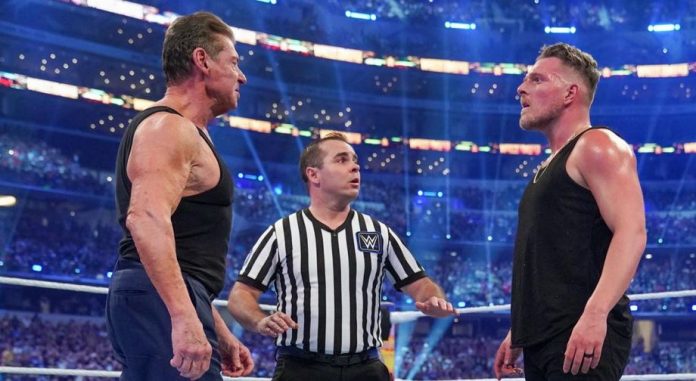 The wrestling world is talking about Vince McMahon right now as the Wall Street Journal recently reported that the WWE board is investigating a $3 million dollar settlement connected to a former employee that Vince McMahon allegedly had an affair with.
Pat McAfee worked with Vince McMahon at WrestleMania 38, and like everyone else he has some thoughts on the situation. He noted during an episode of the Pat McAfee Show that he's excited to hear the chatter at SmackDown on Friday.
"I know less than everybody else. This is just me, I don't know sh*t about f*ck over there. I go in, do my thing, say hello to everybody, and I'm out. I'm in maybe the most awesome situation in the history of WWE for anybody. I'm the long-time fan, a lifelong fan of the company. But I'm not part of anything. I'm part of no groups, I have no locker room. I literally bounce around, do my thing, and I'm out. It's designed to be that way.
"I think Michael Cole and everyone have set it up to be that way, like 'This is the best way for this to happen, let's keep him out of everything. He comes in and does his thing.' I'm very fortunate, lucky, and love that job. But outside looking in, it's like, if you're watching Succession, anytime a board is trying to do something, it's hard not to be like 'Woah, woah, woah.' I'm going there tomorrow. I'm excited to hear the chatter. Now obviously, what is being alleged is not fantastic at all, it's terrible. There will be full investigations."
Vince McMahon was trending for some time after the news broke, and McAfee noted that much like other people were doing on social media he found it hard not to try and piece things together.
"Yesterday, when this hits the internet out of nowhere, I'm like 'Oh my God.' It's hard not to start piecing things together and be like 'You could see how that person would want, and then that, and if that was happening, how does this not come out?' I'm watching along with everybody else in the middle of Indianapolis yesterday. But that came out of nowhere."
Despite the fact that Vince McMahon has been a very hot topic on social media since the allegations surfaced it's been reported that he and John Laurinaitis are expected to be at SmackDown tomorrow and that they will carry on with business as usual. Stay tuned for more updates as they become available.
H/T Wrestling Inc.