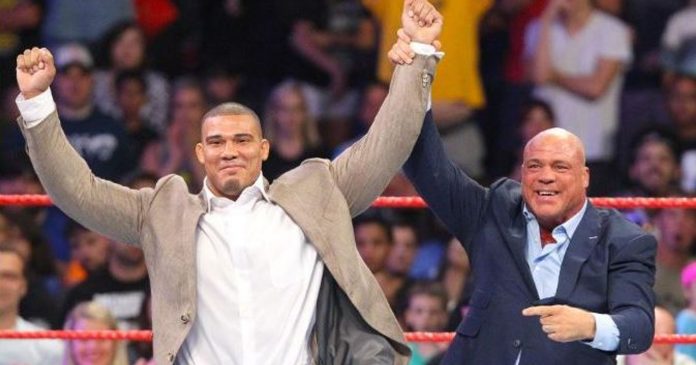 Jason Jordan was revealed to be Kurt Angle's son in 2017, and it seems that WWE had big plans for the angle that never came to fruition.
Unfortunately Jason Jordan got injured and had to undergo surgery, which forced WWE to change creative plans. Jon Robinson, the author of "Creating the Mania: An Inside Look at How WrestleMania Comes to Life" had full backstage access while writing the book, and according to him Jordan was originally supposed to face Angle at WrestleMania 34.
Robinson recently appeared on the Smark To Death podcast, and he revealed that Jordan was supposed to defeat Kurt Angle and then become a top star.
"They were really gonna do Kurt Angle vs Jason Jordan and this was gonna put Jason Jordan over huge and make him a top star. Then Jason Jordan gets injured, that's another big change. Then what do you do with Kurt? Then obviously he gets thrown into an even bigger match. It's crazy to see everything change from what I'm being told, to watching the show, then going back and talking to them again. Having that kind of access was incredible, especially for someone like me who has been a huge fan since I was a little kid."
Seems like it would have been interesting to watch Jason Jordan's push unfold, but as of this writing he still hasn't been cleared for in-ring competition, so his future remains uncertain.