It's time for another big WWE pay-per-view and that means a NXT TakeOver comes with it. Although this year's TakeOver during WrestleMania weekend doesn't have a match like last year's Dallas show with Shinsuke Nakamura vs. Sami Zayn, it does offer a few matches that look very promising on paper.
Related: Full WrestleMania 33 Card, Breakdown And Match Analysis
At NXT TakeOver: Orlando the stars of NXT will get their chance to show the world what they can do and every championship will be on the line. Let's take a closer look, shall we?
Tye Dillinger, No Way Jose, Roderick Strong, and Ruby Riot vs. SAnitY
SAnity has been on a mission as of late to induct Tye Dillinger into their ranks. This is puzzling, but that's been the story-line Dillinger has been working with since his Royal Rumble debut where he came in as entrant #10. Since 1 vs. 4 doesn't sound very fair, he's enlisted the help of Roderick Strong, No Way Jose, and Ruby Riot. If WWE continues to book SAnitY in the same dominant fashion they have been in recent months then we can probably expect them to go over. Then again, a face win here wouldn't do much to hurt their reputation because they're still plenty scary.
SAnitY is one of the most fascinating acts on any WWE roster, let alone NXT. The important part of this match probably lies with Ruby Riot because the former Heidi Lovelace is making her TakeOver debut here. If the faces win this one, it would be nice to see her get the win over Nikki Cross. Then again, these two girls are young enough and have plenty of matches ahead of them. So we wouldn't be surprised if this match doesn't really conclude anything (unless Tye Dillinger makes a main roster jump soon).
Aleister Black vs. Andrade "Cien" Almas
This match has been built as a launching pad for Aleister Black. But, fans are still in for a real treat when the former Tommy End and La Sombra square off in Orlando. Aleister Black has a huge future ahead of him in WWE, but first he has to prove himself in NXT. He plans on doing just that on April 1st. But, we wouldn't see it as too much of an "April Fools" if Andrade Almas came out with a win here. After all, he did lose his match against Roderick Strong at TakeOver: San Antonio, therefore getting some heat back might be the way they book this one.
Either way, we expect this to be an incredibly stiff and entertaining match. This is Aleister Black's first match at a TakeOver special so he's likely to come away with the win in order to solidify his position with the NXT audience. It's just unfortunate Andrade Almas seems to be losing every feud he embarks on as of late.
Authors Of Pain vs. Team DIY vs. The Revival (NXT Tag Team Championship Elimination Match) 
If we were the betting type, we'd put money on this being the match of the night. All three of these teams are hungry for those NXT Tag Team Titles and have been at each other's throats recently. It all finally came to a head when William Regal announced they would take part in an elimination tag match for the NXT Tag Team Titles. Team DIY wants the titles back after losing them in shocking fashion at TakeOver: San Antonio to the winners of the Dusty Rhodes Tag Team Classic. The Revival are Top Guys and want to prove this once again.
Truth be told, if Authors Of Pain retain here it wouldn't be all that surprising. They are being booked as dominant and have a huge future ahead of them, especially since they're under the tutelage of Paul Ellering. He is an invaluable resource of knowledge. We just want The Revival and Team DIY on the WWE main roster already. God knows SmackDown Live needs a few more great tag teams.
Asuka vs Ember Moon (NXT Women's Championship)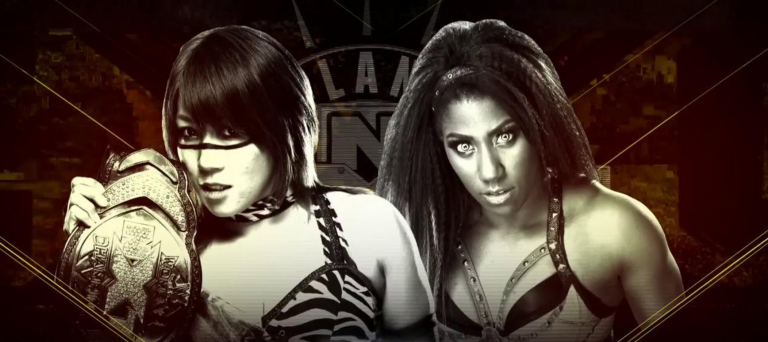 The program with Asuka and Ember moon finally explodes at TakeOver: Orlando. Ember Moon has one of the coolest finishing moves right now with her top rope corkscrew stunner, The Eclipse. And Asuka loves to kick heads in, she's really good at it too. Since Asuka doesn't seem to be going anywhere too soon, it's unlikely she'll be losing this match either.
But let's face it, Asuka needs to lose sooner or later. Her streak of wins parallels Goldberg's and it took a taser to beat that winning streak. Therefore, anything short of a shotgun blast to the face would be illogical to topple The Empress Of Tomorrow at this point. This will still be a good match and if given the right situation Ember Moon could always win, but it would take a lot of punishment. Asuka has given Moon plenty to prove asking if she works in NXT at all. So, there's no time like the present for Ember Moon to establish a reputation in NXT as the one who beat Asuka.
Bobby Roode vs. Shinsuke Nakamura (NXT Championship Match)
To be honest this match might have the best entrances of the entire WrestleMania weekend (unless the Broken Hardys fly into Camping World Stadium playing a golden grand piano). Bobby Roode beat Shinsuke Nakamura at TakeOver: San Antonio due to The King Of Strong Style really selling a knee injury. So, Nakamura wants that title back. However, he might be faced with a problem because he very well may be making a main roster jump soon.
Of course it didn't stop Kevin Owens from jumping to the main roster while he was NXT Champion. Nakamura could do the same and keep him on both shows for a minute. He could still do the NXT European Tour and be on Raw or SmackDown. They could gradually separate Shinsuke Nakamura from NXT until he's a full-fledged WWE superstar.
But, Bobby Roode is the top heel on NXT and has plenty more top faces to feud with like Kassius Ohno (who isn't on the TakeOver show for some strange reason). Roode is also rumored to be the top guy on NXT in the foreseeable future. So, signs point to The Glorious One finding a way to keep his NXT Championship in Orlando. If this is Shinsuke Nakamura's final NXT match one year after his debut, you can expect one heck of a fight.
No matter if there are as many title changes in Orlando as there was at San Antonio's TakeOver, NXT fans are still in for a night of awesome wrestling. But one thing that needs to always be considered here is all of these NXT superstars are working for their future immortality on WWE's main roster. So, if there's going to be a show where a boat load of brass rings are grabbed, it's going to be this one.