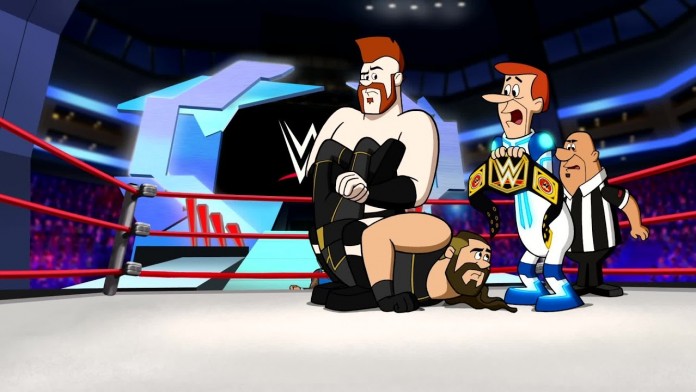 WWE and Warner Bros. are at it again, but this time they are taking it to the future. "The Jetsons & WWE: Robo-WrestleMania!" is slated to be released on February 28th on digital download and March 14th on home video.
The plot of the film seems to be in line with some of the prior WWE animated projects recently as they tell a story that aligns with the cartoon world with elements of WWE inserted within the story.
The plot of the film is said to involve a powerful snow storm that freezes Big Show solid where he remains in a cryogenic state until he wakes up in the future. Big Show meets George Jetson because George just happens to be the lucky fella who discovers Show and thaws him out. The Big Show then takes off on a 22nd century wrestling adventure in Orbit City.
Big Show eventually must travel back in time to enlist in the help of WWE superstars like Alicia Fox, Roman Reigns, Seth Rollins, and Sheamus to help him fight a wrestle-bot army (we're not making that up).
This movie is certainly one we plan on watching with tubs full of popcorn on a slow news day (if that exists when you're a professional wresting reporter). Regardless, it has certainly piqued out interest, how about you?
Catch @WWETheBigShow and the @WWE Superstars in #JetsonsWWE: Robo-WrestleMania, on Digital HD 2/28 and DVD 3/14 https://t.co/DkyiRId4MT pic.twitter.com/h7dhDVvugP

— Warner Bros. (@WBHomeEnt) February 17, 2017
You can check out the trailer for the film below.
We recently reported that Leo Krugar (formally known as Adam Rose) is selling his Bunny costume, well the Bunny has left the building. He still has a couple pimp coats for sale, but you better hurry if you want one, because once they're gone he's not getting any more.
We don't know whether it was our article that helped direct the buyer of the Bunny, but we'd like to think we helped a little bit. And, since we're such big fans of Krugar we won't even ask for commission.
Keep doing your thing, Leo because Still Real To Us will be watching and looking forward to see what you do next!
Original bunny costume sold! #AdamRose #KRUGAR #BunnyMania

— KRUGAR (@RealKrugar) February 17, 2017