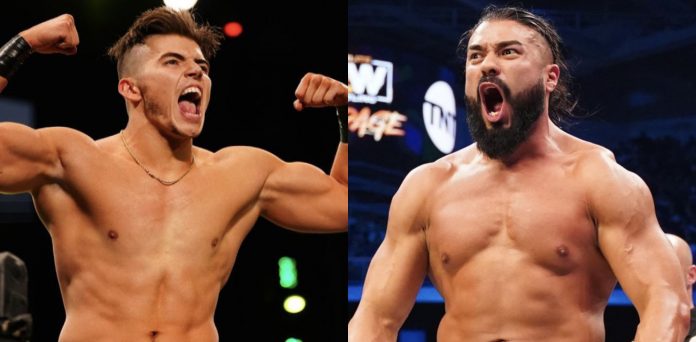 Recently Andrade El Idolo and Sammy Guevara have been trading shots on Twitter, and their real life feud was taken to the next level on Wednesday night when they got into a physical altercation at this week's AEW Dynamite tapings.
Fightful Select reports that there were varying accounts regarding the altercation, but most of the accounts they heard indicated that Andrade was the aggressor and Sammy Guevara tried not to participate in the fight. It's also being said that many accounts indicated that Andrade waited for Sammy to arrive and he threw a few punches before the altercation was broken up.
Both men assured management they wouldn't be fighting after they were warned not to do so. A few accounts claimed that Guevara shoved Andrade, but those claims reportedly came from people who were more in line with Andrade's side of things.
Andrade El Idolo was sent home and as noted Tony Khan pulled his Career vs. Mask match against Pres10 Vance which was originally scheduled for Rampage. It was recently reported that Andrade was told he wouldn't be fired for fighting. Stay tuned for more updates as they become available.