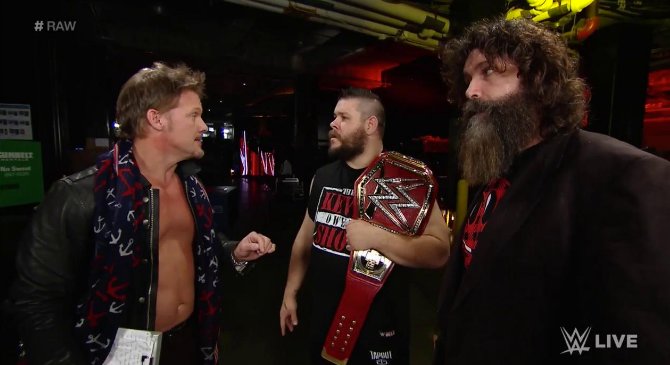 Last week on Raw, Roman Reigns defeated Kevin Owens and he earned the right to challenge Owens for the Universal Championship on Raw. Kevin Owens also had a fight with his BFF, Chris Jericho, and this week on Raw there was still a lot of tension between Owens and Jericho.
Kevin Owens tried to ease the tension by giving Chris Jericho a few "gifts." He talked to Mick Foley, and Foley made Seth Rollins vs. Chris Jericho official for WWE Roadblock: End Of The Line. Owens also scored a United States Championship match for Jericho, and he challenged Roman Reigns for the title on Raw.
Before the match went down, Kevin Owens met up with Chris Jericho backstage, and Owens told Jericho he has his back. Chris Jericho told Owens to stay away from the match, and to stay away from him.
Kevin Owens interfered anyway, and when the referee wasn't looking, he kicked Roman Reigns in the face. Chris Jericho followed up with a Codebreaker, but Roman Reigns kicked out. When Chris Jericho realized Kevin Owens interfered, he confronted him and told him to shut up, and that he doesn't need him. Jericho pushed Owens and told him to get out.
Kevin Owens then left with a sad look on his face, and Chris Jericho turned around then dodged a spear from Roman Reigns. Jericho still caught off guard from the distraction, bounced off the ropes and then ran right into a spear from Roman Reigns. Roman went for the pin to end the match.