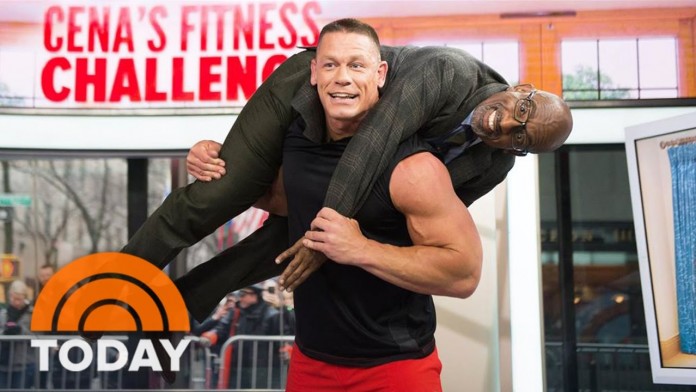 John Cena appeared on the Today Show once again and led in a segment called "Cena's Fitness Challenge." During the appearance, he led the Today Show crew in a few exercises that tone the glutes and stomach.
He covered the proper way to perform lunges, dead bugs, bicycles, glute bridges, and more. The segment concluded with Cena hoisting Al Roker over his head for extra weight as he demonstrated how to properly perform a squat.
Al Roker had a huge smile on his face and this was obviously a planned bit because otherwise, Roker might be concerned that he was about to take an Attitude Adjustment.
You can check out the clip below.
The Bella Twins recently posted a backstage video while they were shooting the Sophia Grace video "Hollywood." Lana is featured in the video and Nikki initially refers to her as CJ. Nikki is also mortified by how dirty her feet are and momentarily shows the bottoms of her feet as proof.
Later in the video, Brie acknowledges that she forgot to bring the requested clothing for the video shoot. She says that the fact she didn't bring Hollywood chic clothing might be due to her "pregnancy brain." Even though Brie forgot to bring the requested wardrobe she said that she will improvise by wearing some stuff that Nikki brought.
Sasha Banks and Naomi are also shown during the closing moments of the video during a photo op, although they don't say anything in the video.