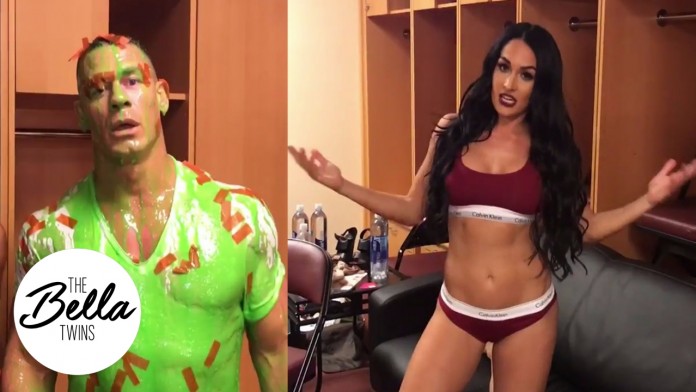 Being surrounded by a massive amount of excitable children has to make anyone tired, even if you're John Cena or the oldest Bella Twin (by 16 minutes). The Bella Twins' official YouTube channel recently posted a video which shows how Nikki relaxed after the 2017 Kids' Choice Awards show in her underwear.
It might seem like an advertisement for Calvin Klein underwear, but it's very much appreciated nonetheless. The non-pregnant Bella Twin enjoyed a very healthy meal of chicken and veggies in her underwear while she waited for her boyfriend to get finished with his hosting duties.
When Nikki's bae, Cena returned from the Kids' Choice Awards hosting duties he was covered in green slime and pink confetti looking like some kind of party monster. Nikki miraculously wound up back in her black gown once again, and John Cena looked exhausted.
However, there is no rest for this power couple as they were soon off to New York City's Madison Square Garden where WWE was holding a house show the next afternoon. John Cena would suffer his very first loss ever in Madison Square Garden the next day, but nobody would call him a loser. With a life like this, he's certainly winning in more ways than one.