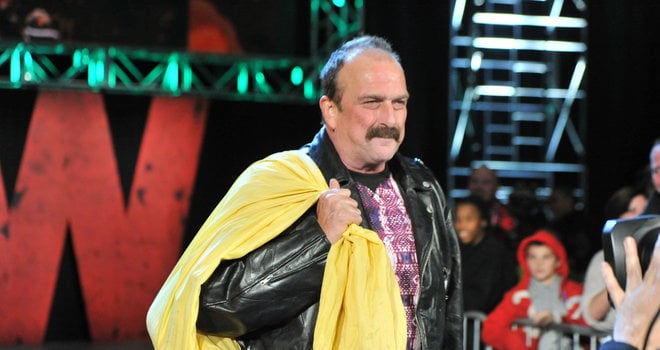 Jake "The Snake" Roberts has had his problems with his demons in the past, but over the last few years Roberts has put a lot of effort into turning his life about. His incredible journey was documented in the film "The Resurrection of Jake Roberts" and the story culminated with a WWE Hall of Fame induction for Roberts.
Jake's story is one of those "never say never" tales as many fans were surprised to see him appear on Raw a few years ago. Now that Jake is in WWE's good graces, fans are wondering when they might see him again.
The Hall of Famer recently spoke to CNBC about his current status with WWE, and he noted that right now nothing's in the plans for him.
"I have no idea what those guys are doing," he said. "If they decide they want me, they'll call me."
For many wrestlers and fans Jake is one of the greatest of all time, and he's often praised for having a great mind for wrestling psychology.
However, not every one of Jake's matches were a home run, but he noted that he thinks ever performer should use their bad moments as inspiration to get better.
"It's kind of scary breaking new ground. It's kinda scary trying things that haven't been tried. You don't know if you're going to come out on the upside or the downside of it. They remember the bad nights, they don't remember all the good ones," Roberts said. "If you have a stinkaroo of a match, man, people remember that, so you don't want to have one of those, you know, and you go out there and give it your best nightly."