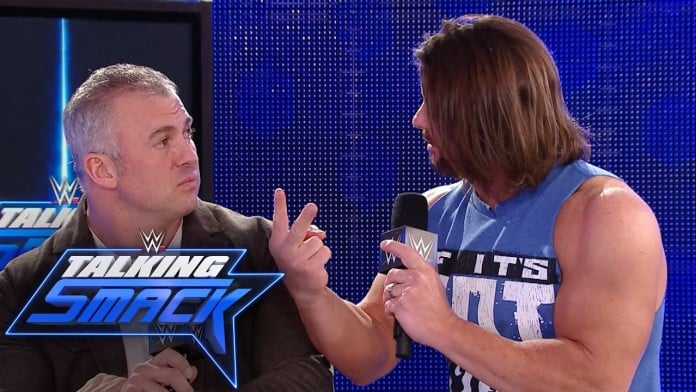 When the WWE brand split returned last summer, Raw and SmackDown Live got their own separate rosters, and SmackDown also got a weekly talk show called Talking Smack. The show allowed wrestlers to open up and be themselves, and it made for some interesting moments on TV. That's why fans were disappointed to learn that the show was cancelled as a weekly series, and it will now only air after SmackDown Live pay-per-views.
Related: Daniel Bryan Jokes That He's Chad Gable's Father, Kevin Owens Comments On Talking Smack
The concept for Talking Smack worked well, but apparently there are some people in the company that aren't big fans of the show. It's been rumored that Vince McMahon doesn't think Talking Smack serves the best interests of the company, but there's no denying that it gives fans plenty to talk about.
Even though the show only debuted last summer, former WWE star Armando Alejandro Estrada says he was the one who pitched the idea to Vince McMahon. According to Estrada, he pitched the idea in 2011 with him as the host, and McMahon liked it. He posted the following:
"In December 2011, I drove to a Smackdown taping in Indianapolis to have a meeting with Vince. Finally, after blowing me off for most of the day, we sat down in Gorilla before the taping and I pitched him an idea for a show. At the time, WWE was looking for ideas to create content for this vision they wanted to call "The Network". The show I pitched Vince was a non-wrestling show that would allow talents that don't get much mic time, the opportunity to pseudo-shoot and help get them comfortable speaking in front of a crowd. The show I envisioned was titled "Smack Talk" and I was to be the host. Vince smiled, said he liked the idea, shook my hand and said thank you. I drive home to Chicago that night thinking I was on to something. Little did I know I was about 5 years too early. RIP Talking Smack, you were a breath of fresh air!"
True story I've never told. Enjoy! #TalkingSmack #WWE @WWE pic.twitter.com/gT3wbGW0zZ

— Armando Estrada (@RealArmandoHaHa) July 14, 2017
On this week's episode we're talking to Simon Grimm, aka Simon Gotch about what's next for his career and more. In the episode Simon goes into some interesting ideas that he pitched to WWE creative, where he wants to wrestle next, and he also shares the story of how he found out The Vaudevillains were getting called up to the WWE main roster. We're also sharing our predictions for the WWE Battleground pay-per-view and more. You can subscribe to Still Real Radio on iTunes, and you can also check out the latest episode below.