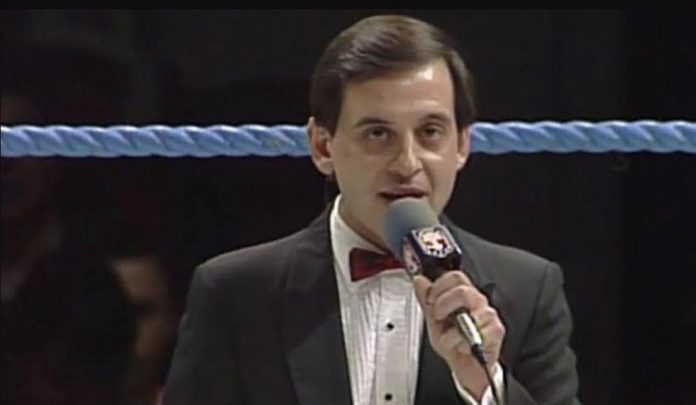 Gary Michael Cappetta has seen it all in the world of professional wrestling.
The notorious ring announcer, who has perfected his craft since the 1970s, is bringing his compelling one-man show, "Beyond Bodyslams!," to Queens, New York on November 11th. Cappetta has been the voice of the World Wrestling Federation, National Wrestling Alliance, World Championship Wrestling, and Ring of Honor throughout his years in the often crazy and turbulent wrestling business.
In an exclusive interview with Still Real To Us, Cappetta explained why fans should check out what he is doing for his last performance of his 6 city tour which included stops in Atlanta, Tampa and Louisville.
"No one else is doing what I'm doing," said the announcer. He continued, "It's a story telling show, accompanied by a giant screen video, which includes some of the most talked about incidents in the modern history of the game."
When asked about events that will be discussed for fans in attendance, Cappetta told Still Real To Us, "For instance, the night Mick Foley lost his ear in Munich, Germany, where I was officiating at the time. The referee flipped me his ear and I took it backstage. Folks might want to know why that happened. It wasn't a one night incident. There were incidents leading up to his ear coming off the side of his head."
Cappetta elaborated on what he meant. He hinted, "That night, when Ric Flair was in charge, and I gave the ear to Ric…Fans might want to know what happened when I took the ear to Ric and told him, 'Mick lost his ear in the ring.'"
Another story that "Beyond Bodyslams!" will focus on is a wild encounter that gained fame on the Internet in the mid-90s. "I will talk about the night where Arn Anderson and Sid Vicious had their scissor fight in the United Kingdom. It happened right outside of my hotel room because I was across the hall from Arn's room. These are stories that are firsthand and from what I witnessed," said Cappetta.
The multi-talented announcer expanded, "These stories are from my book. They are all accompanied by video. Especially, when we are talking about when Mick Foley lost his ear because it was a non-televised event. Yet, there was a camcorder that made it into the arena. I have the footage of the match and the ear falling off. It's more like performance art. It's not a Q&A. It's not stand-up comedy. It's a loosely scripted stage show."
"It's commentary also. I go on some rants. We just have fun," laughed Cappetta.
Cappetta has been told that his show has been described as an "adventure movie and an emotional roller coaster ride." There are said to be sad scenes which will be very touching for wrestling fans. In addition, there will be memorabilia displayed that hasn't seen the light of day before. Cappetta told Still Real To Us, "It's totally informative. It includes some of the history of the WWE. I will show the fans a photo album of the McMahon family on the huge screen. You're not going to see that anywhere else."
The mastermind behind "Beyond Bodyslams!" explained that his upcoming performance will show his early beginnings as well as seeing the evolution of some of the current, top WWE Superstars. "I pay tribute to Gorilla Monsoon, who brought me into the sport. I take people on a ride through many of the pay-per-views that I announced. I also speak about my time in Ring of Honor, and talk about who that roster was back twelve years ago, and how far they've come."
Cappetta didn't stop there. He talked about the differences between working for the World Wrestling Federation and World Championship Wrestling. "By the virtue that I started in the WWF, and I was more accomplished by the time I got to WCW, that made a huge difference. The first eleven years as a broadcaster in the sport, I worked for the McMahon family. When you start, you are feeling your way and you are learning the ropes," he said. Cappetta continued telling Still Real To Us, "By the time I got to WCW, I already had been on WWF television for 8 years. I was on ESPN doing the AWA national broadcast. In one case, I was doing a part-time job. When I was with WCW, it was full-time on the road. They were certainly different experiences."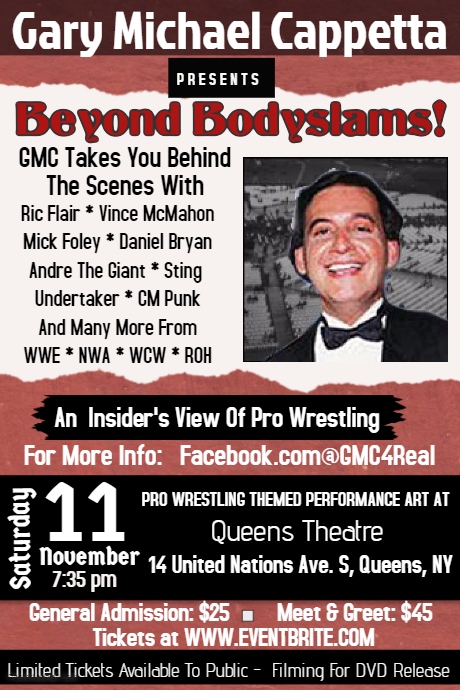 For fans who want to break into the industry as an announcer, Cappetta had words of wisdom that he wanted to share. "It's very different now than it was. If you plan on soliciting one of the major groups, I suppose you're going to need a degree in broadcasting. My suggestion is to latch on to an independent promotion and just start doing it," the accomplished announcer explained. Cappetta continued, "It's like anything else you do–the more you do it, the better you are going to get at it. Especially in the performing arts. You usually have role models and when you start, you have nothing more to go on than what you have heard and seen in the past." He then nodded, "As you continue to gain experience, you create your own style, having used the role models to begin with."
The New Jersey native stressed that a person is going to have to put in the hard work if they want to make a great impression. "In my opinion, experience is the most important teacher. If you are going to try going from obscurity and poke into one of the majors, they are going to want to see some academic credentials. I don't think that makes you a better broadcaster though. Ask Jim Ross. Ask Gordon Solie," he grinned.
What might surprise wrestling fans is that this isn't Cappetta's first tour of "Beyond Bodyslams!" In fact, Cappetta was ahead of the game. "The show was originally created back in 2002. I performed this show way back when my book initially came out. It was a forerunner before any of the other 'one-man shows.' I don't think of my show as a one-man show because it's very interactive with the audience. I consider my show to be a celebration of pro wrestling," Cappetta told Still Real To Us.
He explained, "I feel that all of the participants who attend the show–we are all equals as wrestling fans. We all have our own experiences that drew us to the sport. I had done this show down in Virginia and up in New York state. Recently, I updated the show over a year ago because I feel it wasn't given enough of a chance to get out there."
Cappetta ultimately hopes that his show will bring in fans that might have not read his book when it first came out. "I understand that not everybody learns from reading. Not everyone is a book reader. This is my attempt to bring my book to life so people can be entertained and informed at the same time," he stated.
As for fans who are disenfranchised with the current product that WWE is offering? "Enjoy it for what it is, or find another product. It's a wonderful environment today where we have so many different products where you can enjoy pro wrestling if you're not into sports entertainment," concluded Cappetta.
You can follow Gary Michael Cappetta on Facebook. You can also purchase tickets to his upcoming "Beyond Bodyslams!" show by clicking HERE. To read more exclusive Still Real To Us interviews featuring your favorite Superstars, click HERE.