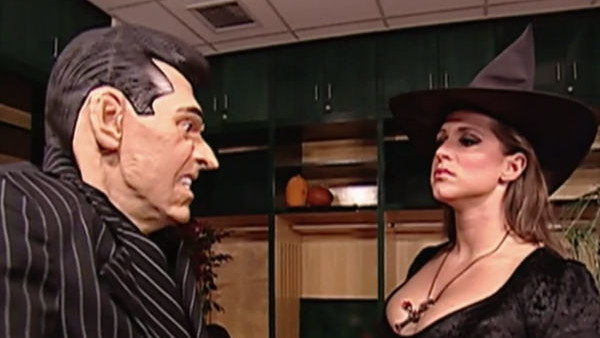 When Eric Bischoff was trying to prove that Raw was the superior brand during his run as General Manager, he was up against Stephanie McMahon who was working as the GM of SmackDown.
Bischoff recently opened up about his feud with Stephanie during a recent episode of his 83 Weeks podcast, and he also talked about their infamous kiss.
The former GM said that he's not sure who came up with the idea for him to kiss Stephanie, but he thinks it was Vince McMahon himself.
According to Eric, Stephanie wasn't really into the idea, but she did what she had to do and remained professional.
"Having [Vince] standing there directing the scene while I was making out with his daughter – I knew she didn't want to do it," said Bischoff. "It was like me and how I felt when I had to take a Stink Face from Rikishi. I am sure she wasn't feeling that, but she was a pro and as weird as it was, again, as a character you are doing it.
Bischoff also said that he didn't really feel his back and forth feud with Steph was getting over with the fans, but the kiss intrigued him because he thought it could be the beginning on an interesting storyline.
Unfortunately the storyline was dropped.
"I think it was a live segment, and as I am doing it I can hear the crowd reacting even though I was in a remote arena. But I can hear the reaction from the crowd, thinking, holy s**t, this is going to be great! Then it got dropped. It was like, boom, gone, never to be spoken of again which was really weird. It was more weird for me than having Vince McMahon standing there directing me as I make out with his daughter. His direction was very animated, but we did it and then it's gone. It's like, what the f**k?"
H/T Wrestling Inc