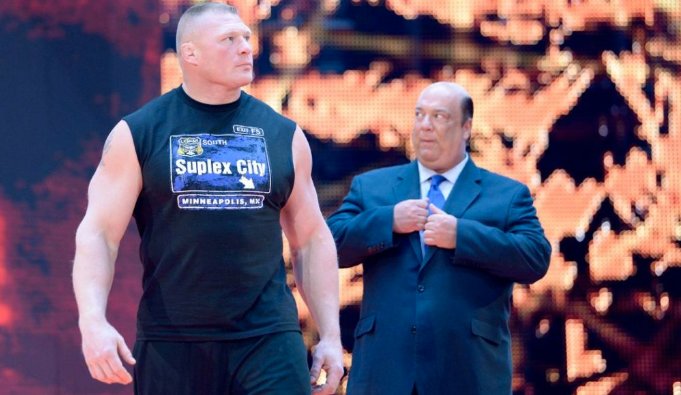 There are more than enough rumors floating around WWE nowadays, that's for sure. Brock Lesnar is a top guy on the roster, and he's agreed to do even more Raw appearances and he seems like the favorite to take the Universal Title off of Goldberg in the main event of WrestleMania 33.
Even if he's just showing up to Raw in order to make an appearance after the actual show is over, he's still getting a check. But, there are some who say his attitude toward the business isn't a good one.
Lesnar has been booked as a guy who will look straight at the camera and say that he's all about the paycheck. A lot of fans say that is a genius way to book a no BS character such as The Beast Incarnate, but it isn't a good mindset for a professional wrestler if that is indeed how he looks at his job. Well, apparently his current on-screen demeanor might be more of a shoot than fans might realize.
During a recent episode of What Happened When on the MLW Radio Network, Tony Schiavone and Conrad Thompson talked all things WCW Halloween Havoc 1990. If you're wondering how this will get back to Lesnar, just stay with us.
During the build-up to the event they went over the awful attitude Sid Vicious had toward the wrestling business including skipping shows to play softball, holding out for more money, and claiming to be injured so he didn't have to work 6-man tag matches with Arn Anderson and Barry Windham as his partners.
Conrad read reports claiming Sid said he couldn't learn anything by tagging with Anderson and Windham, and he quoted a report with Sid saying, "I'm more over than both of those guys so they can't teach me anything."
Schiavone said of Sid, "I don't remember anyone that I talked to, any of the wrestlers who liked Sid Vicious […] I may have been wrong, there may have been some, but nobody had a kind thing to say about him."
Conrad Thompson then said he and Tony have a mutual friend, who isn't Ric Flair who he was talking to about Sid Vicious with recently. Thompson said, "They compared the way [Sid] behaved in the locker room to the way Brock Lesnar does today. He was very 'I'm here all about the business, I don't care about any of this bulls—. I'm not here to be anybody's friends, tell me what time to be there I'm gonna show up as late as possible, I'm gonna leave as early as possible, my checks better clear or I'm outta here.'"
Tony said Sid was probably a little bit harder to work with than that, but the statement from an anonymous mutual friend of Tony and Conrad certainly makes one think. After all, Conrad Thompson and Tony Schiavone know some people inside the business.
Therefore, WWE has positioned Brock Lesnar to cross that line between work and shoot and they very well might have created a much more realistic character than fans would expect.