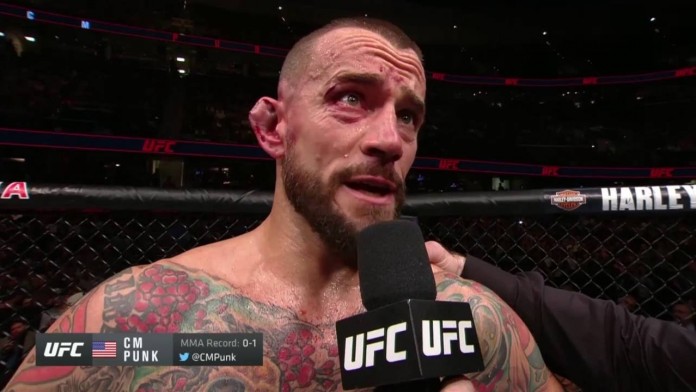 Dana White gave CM Punk the chance to step into the octagon, and CM Punk made his UFC debut on Saturday night when he faced off against Mickey Gall at UFC 203. Unfortunately for Punk, he didn't last long as Mickey Gall used a rear naked choke to make CM Punk tap out in 2 minutes and 14 seconds.
John Pollock of Fight Network spoke with Dana White after the event and he asked White about his thoughts on Punk. He said he likes CM Punk, and that Punk wanted a shot so he gave him a shot. When asked if he thinks Punk's next fight should be in the UFC, Dana White didn't sound so sure.
"He probably shouldn't have his next fight in the UFC. Just like I said with Brock, having your first fight in the UFC is tough. Like you see tonight, even if it's against a guy who's 2-0, this is a tough place to learn."
You can check out the clip below.
CM Punk has said in the past that when he signed a deal with UFC the deal was for multiple fights. However, it remains to be seen when and where CM Punk's next fight will take place.
After his loss to Mickey Gall at UFC 203 Punk spoke at the post-fight press conference and gave his thoughts on another potential fight in the UFC, and what's next for him. You can see what CM Punk had to say by clicking here.