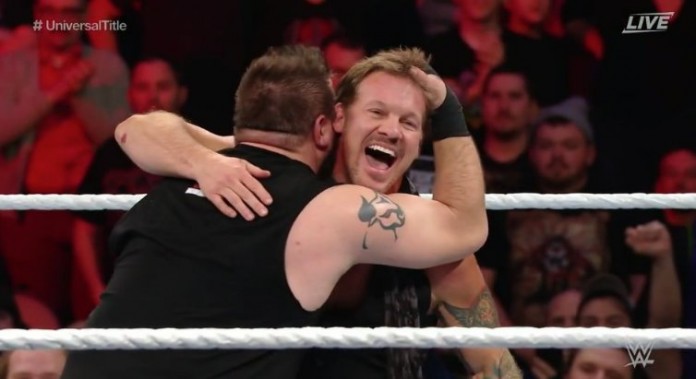 A few weeks ago on Raw, United States Champion Roman Reigns confronted the Universal Champion Kevin Owens, and he taunted Owens by pointing out that he was getting a lot of help from Chris Jericho in regards to his title defenses.
Roman Reigns sowed seeds of dissension between Owens and Jericho, and he also got Owens to agree to a match with a title shot on the line. Roman Reigns managed to earn a title shot, and he challenged Kevin Owens for the Universal Championship at Roadblock on Sunday night.
Earlier in the night Kevin Owens tried to give Chris Jericho a scarf, but Jericho rejected the gift. Kevin Owens then tried to interfere in Chris Jericho's match against Seth Rollins, but Owens ended up costing Jericho the victory. Backstage he tried to make up with Chris Jericho, but Jericho wouldn't open the door to his dressing room.
Kevin Owens defended the Universal Title in the main event in a hard hitting match. At one point Kevin Owens set Roman Reigns up on an announce table outside the ring, and he hit a Frog Splash off the barricade but the table didn't break. Owens did it again, the second time he put Roman through the table. Roman almost didn't beat the count, but he got back in the ring at the last second and KO hit him with another Frog Splash but he kicked out.
Kevin Owens got frustrated because he couldn't put Roman away, so he grabbed the Universal Title, and he was going to use it as a weapon, but Roman speared him.
While both Kevin Owens and Roman Reigns were down, Chris Jericho made his way down to the ring. He stared at both Roman Reigns and Kevin Owens, and he looked like he was going to hit Roman Reigns, but he hit Kevin Owens with the Codebreaker to end the match. Kevin Owens won the match by disqualification and retained the title.
After the match, Chris Jericho laughed and looked at Kevin Owens. He handed him the title and then raised his arm. They celebrated in the ring as Roman Reigns stared them down then they made their way up the ramp.
As they were walking up the ramp, Seth Rollins cut them off. Kevin Owens walked into a spear from Roman Reigns, and Seth Rollins took out Chris Jericho inside the ring. Seth Rollins threw Chris Jericho the the outside, and Rollins and Reigns cleared off the Spanish announce table. Reigns and Rollins powerbombed Chris Jericho through the table as Kevin Owens tried to escape.
Seth Rollins grabbed Kevin Owens before he could get away, and Rollins and Reigns put Owens through the announced table at the top of the entrance ramp to end the show.
TWO FROG SPLASHES by @FightOwensFight, the 2nd THROUGH THE TABLE!! #WWERoadblock #UniversalTitle @WWERomanReigns pic.twitter.com/1K3jabdohc

— WWE Universe (@WWEUniverse) December 19, 2016
.@FightOwensFight is so confused right now, as @IAmJericho gives him his #UniversalTitle back! #WWERoadblock pic.twitter.com/18p2Uh0KFV

— WWE (@WWE) December 19, 2016
.@WWERollins + @WWERomanReigns = BAD NEWS for @IAmJericho!! @TheShieldWWE #WWERoadblock pic.twitter.com/AUQUAd2yjz

— WWE (@WWE) December 19, 2016