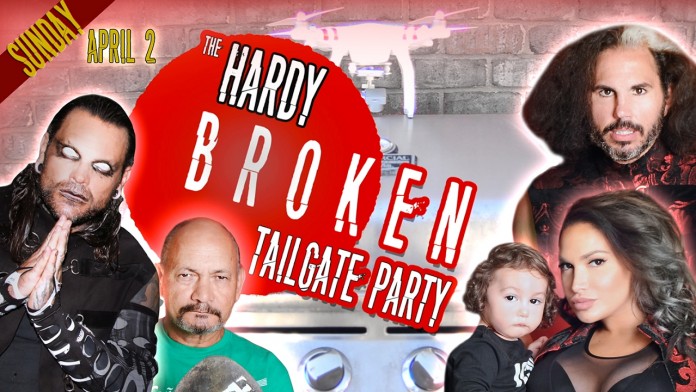 WrestleMania week is always a big week for the wrestling industry and this year WrestleMania will be taking over Orlando, FL in April. WWE will be presenting the Hall of Fame induction ceremony, NXT TakeOver, WrestleMania, Raw and SmackDown, and there will be many other exciting events taking place in the area, including the Broken Hardy Tailgate Party.
That's right folks, Broken Matt Hardy, the nefarious Brother Nero, Queen Rebecca, King Maxel and Senor Benjamin are throwing what Matt Hardy himself is referring to as, "the most extravagant party of the week."
The Broken Hardy Tailgate Party is set to take place on Sunday, April 2, and tickets are available here. A $30 ticket gives fans admission to the tailgate party with a BBQ Meal and a non-alcoholic drink, admission to the American Combat Wrestling (ACW) event at 11 AM and admission to the Full Impact Pro Wrestling (FIP) event at 2 PM.
Tickets for meet & greet sessions with the members of House Hardy are available but must be purchased separately.
The Hardys are a hot topic right now as their contracts with Impact Wrestling are set to expire this month, and it was recently reported that as of this week they have not signed new deals.
Related: The Latest On The Hardys And Drew Galloway's TNA Status, TNA Creative
Broken Matt Hardy and Brother Nero have been on their Expedition of Gold over the past few weeks and they've been procuring titles from promotions all over the country.
There are quite a few fans out there who would love to see The Hardys return to WWE and Broken Matt Hardy has openly challenged the current tag team title holders on Raw and SmackDown to put their belts on the line.
So far no one from WWE has decided to take him up on the offer, but The Hardys won't be hard to find on WrestleMania Sunday. They will be in Orlando and they've been on a quest to prove that they are the best team in all of space and time, so may the Seven Deities be with any team that tries to step up and answer their challenge.