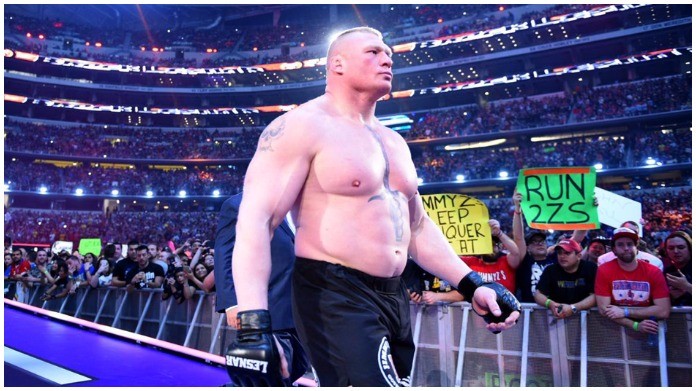 The WWE Universe continues to speculate about the Universal Title Match at Summerslam next month. Until today, the fans were talking about Brock Lesnar dropping the title at the event, but now there is a lot of speculation about The Beast Incarnate's future with WWE.
Related: Rumor On Brock Lesnar Returning To UFC, Plans For The Universal Title At SummerSlam
It was reported earlier today that Lesnar could be re-entering the USADA testing pool for a huge UFC event in Madison Square Garden this November. Pro Wresting Sheet is reporting that rumors regarding a fight for Brock at MSG in November aren't true, but Lesnar's return to the Octagon could happen after WrestleMania 34.
The report is also claiming that Brock Lesnar has informed WWE officials that he doesn't want to re-sign with the company after his current deal expires shortly after WrestleMania next year in New Orleans. It's coming to light that he has every intention to fight for UFC again in 2018.
WWE officials could offer Lesnar a huge deal to stay with the company, but Brock's ambitions will likely bring him back to the Octagon. As long as Lesnar leaves WWE on good terms, he'd be welcomed back for huge PPVs. It's just unlikely he'll sign another exclusive deal with WWE.