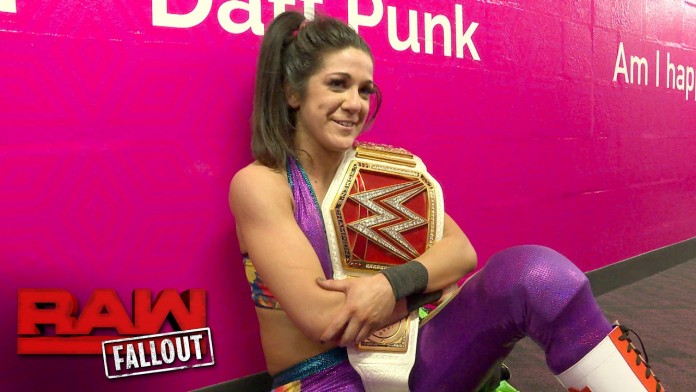 Dreams do come true, and last night Bayley realized a big one. She became the new Raw Women's Champion and WWE caught up with her to get her initial thoughts on her victory.
Related: Bayley Is The New WWE Raw Women's Champion
While sitting in a hallway, holding the newly won title in her lap, you could tell she was filled with introspective thought and still processing the fact that she had accomplished such a career goal. Bayley said that she's always had dreams, and she achieved a couple of them last night in Las Vegas.
You can check out the video below.
#RAW EXCLUSIVE: The @WWE #RAW Women's Championship Title will be getting A LOT OF HUGS tonight from new champion @ItsBayleyWWE! pic.twitter.com/Jn0ULTgoPd

— WWE (@WWE) February 14, 2017
The fact that the camera was able to keep the words "am I happy" in the frame really speaks volumes to the overall sentiment of Bayley's win last night. Whether or not you subscribe to the notion that WWE used up a WrestleMania moment last night is a moot point because what's done is done. Bayley is the Raw Women's Champion, and if your only complaint is that they gave it to her too early, then they're doing a good job.
Bayley is a fangirl realizing a lifelong dream. Her story should be inspirational to all that know if you work hard enough at something, then you're going to get your opportunity sooner or later. She can't believe it's real, and when you finally accomplish your dreams it might not seem like it's really happening at first either.
The new Raw Women's Champion is Bayley and that feels good to say no matter if you think she got the title too early. Whether or not the reasoning is that they wanted to keep Charlotte's pay-per-view streak intact, they wanted an underdog to win in Vegas, or they simply wanted to give us a reason to watch Raw until the end; fans should be eternally grateful that they were able to witness such a moment last night.
One thing is for sure that WWE gave Bayley a great early Valentine's Day present last night with her first major title win on the main roster.
It's actually real…& you guys always supported me. I've always wanted to do you proud & be YOUR girl..and Champion 😊😊😊..#Raw #HugLife

— Bayley (@itsBayleyWWE) February 14, 2017
We here at Still Real To Us would like to congratulate Bayley on keeping the dream alive, living the dream, and winning the dream. You keep at it and so will we.
Because #Huglife, it's the basic Bayleynomics!