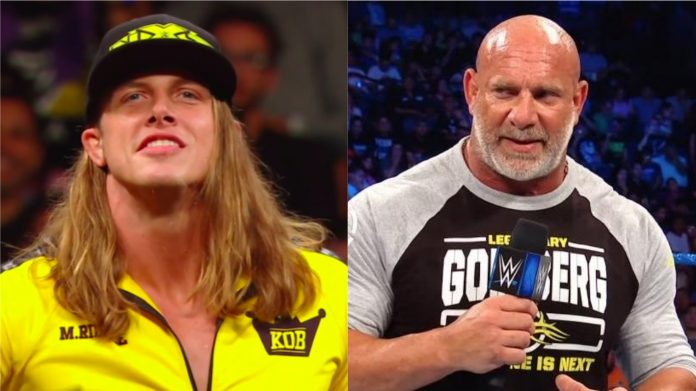 Matt Riddle is anything but shy when it comes sharing his opinions on social media and over the last few months he's targeted WWE Hall of Famer Bill Goldberg.
The Wrestling Observer Newsletter reports that the shots Matt Riddle has been taking at Goldberg on social media have all been approved by WWE, and he wouldn't be doing it if it wasn't approved.
It was also noted that WWE officials may even be encouraging Matt Riddle to be outspoken as it's a way for him to get attention.
Goldberg and Riddle did come face to face backstage at SummerSlam on Sunday, and according to Matt Riddle they had a tense interaction after Goldberg aggressively bumped his shoulder into Riddle's.
"He goes, 'we got some talking to do!' And I'm like, 'well we can talk anytime bro!' He's like, 'yeah?' And I'm like, 'yeah!' And I was like, 'alright, bro, anytime.' And he's like, 'I'm not your bro!' And I'm like, 'Alright, bro. Take it easy. whatever' And then he's like, 'yeah, we'll see. I'll see ya later. And hey, it was a pleasure meeting you.' And I go, 'the pleasure was all mine, bro.' And then he goes, 'I'm not your bro.' And then I walked away, I had to come here."
"I'm not your 'bro'." @SuperKingofBros had a suuuuuper tense run-in with @Goldberg, and he dished earlier today LIVE on #WWEWatchAlong! @PatMcAfeeShow #SummerSlam pic.twitter.com/u0xLLJeVnR

— WWE NXT (@WWENXT) August 12, 2019