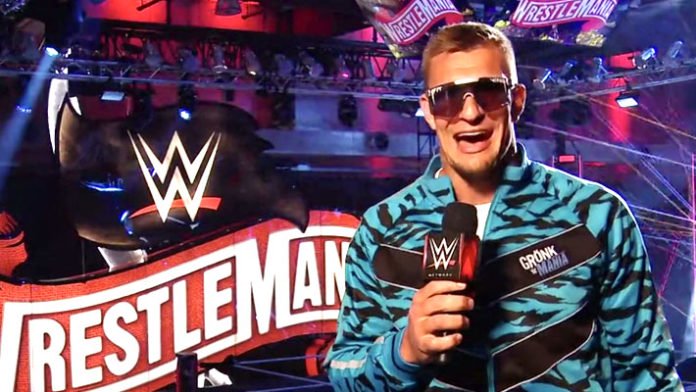 Back in March Rob Gronkowski signed a deal with WWE, and he went on to work as the host of the Show of Shows at WrestleMania 36.
Gronk also had a big spot during WrestleMania 36 when he jumped off the perch at the WWE Performance Center onto a group of Superstars below. Gronkowski then followed up by pinning Mojo Rawley to become the new WWE 24/7 Champion.
This week on Monday Night Raw Rob Gronkowski lost the 24/7 Title to R-Truth, and it's been reported that he had a release clause in his WWE contract, which he has exercised.
Fightful Select is reporting that even people who have a reputation for being easy, helpful and good too work with, all had negative things to say about working with Rob Gronkowski following WrestleMania 36.
It's being said that there was heat on Rob after he hesitated to do his scheduled spot where he won the 24/7 Title. His hesitation reportedly caused WrestleMania filming to fall two hours behind schedule.
It's also being reported that one top star in the company called Gronkowski, "A F***in' clown, who we are so much better off without."
It was announced a while ago that Gronk will be returning to the NFL to play alongside Tom Brady on the Tampa Bay Buccaneers.