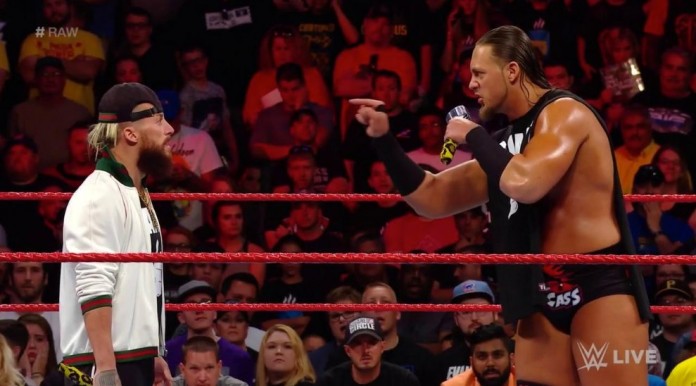 For weeks now Enzo Amore and Big Cass have been getting attacked on WWE Raw. Someone has been sneaking up on Enzo and knocking him out from behind while he's alone, and many fans figured Big Cass was the attacker. However, things became even more confusing when Big Cass was also assaulted by a mystery attacker.
Related: Braun Strowman Returns On WWE Raw, Challenges Roman Reigns To Stipulation Match
There have been a lot of rumors making the rounds in regards to who the attacker, or attackers, could be. The Revival have been lurking in the shadows, and Big Show also recently started watching Enzo's back. This week on Raw, Enzo and Big Cass confronted General Manager Kurt Angle and told him they don't feel safe. They demanded that Kurt find the attacker, and he vowed to solve the mystery by the end of the show.
Kurt Angle made his way to the ring near the end of Raw, and he told Enzo and Big Cass to make their way down to the ring. Enzo and Cass came out to do their usual schtick, and Cass called their mystery attacker SAWFT.
Angle said he had been talking to suspects all night long, and he brought out The Revival, followed by Big Show. Big Cass went off on Big Show and said the WWE medical team told him he had a lump the size of a baseball on his head last week, and he told Angle that Show is the attacker.
Show got mad and left. The Revival were then ruled out because Angle said they had solid alibis.
Corey Graves interjected and said he spoke to WWE's medical team, and they said none of them checked out Big Cass after they were attacked, and he was never medically cleared to compete last week.
Graves said he knows what happened to Big Cass last week and he showed some security footage. He showed a video of Big Cass setting up equipment backstage to make it look like he was attacked last week.
Corey Graves then accused Big Cass of staging an attack on himself because he's really the person that's been attacking Enzo. Big Cass then confessed to attacking Enzo Amore and told him that he's wanted to knock him out for a long time, but he didn't because he felt bad about the fact that no one in the locker room likes him.
Cass said it felt good to attack Enzo, and he wanted to snap his neck, but he decided against it because he wanted to watch him suffer. He told Enzo that he's nothing more than dead weight that's holding him down, and he's the reason why he's never been a champion in WWE.
Big Cass then told Enzo that they're through, and he hit him with a big boot. Kurt Angle then checked on Enzo Amore as the show went off the air and the fans chanted "you suck."
Roxy Astor and Sunny The California Girl from GLOW joined this week's episode of Still Real Radio to talk about what's going on with the GLOW girls, their AfterGLOW cruise and more. Jeff Timmons from the band 98 Degrees also randomly makes an appearance, and we run down our predictions for the Money in the Bank pay-per-view. You can subscribe to Still Real Radio on iTunes and you can also check out the latest episode below.