Every year when the WWE Hall of Fame inductions are announced, there's always a vocal fan base of certain Superstars who feel that their "guy" got snubbed. You can always count on these names to pop up all over wrestling chat rooms when the hall rolls around… Owen Hart, Chyna, Rick Rude, the Undertaker and Vader. Nobody can argue that they all have carved out their spots during their time but for one reason or another, they are yet to enter the prestigious hall. Now that we've got the "obvious" names out of the way, lets take a look at some other Superstars that you'd be hard pressed to find a reason they shouldn't get their name called during Wrestlemania weekend.
5. Bam Bam Bigelow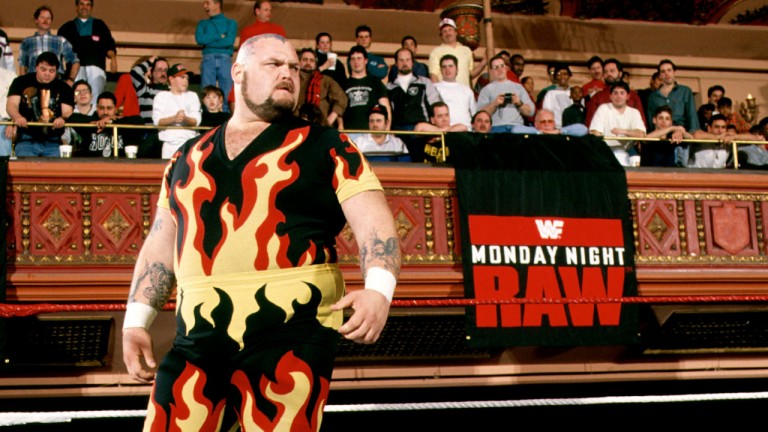 During the span of Bam Bam Bigelow's impressive 21 year pro wrestling career, he amassed 13 championships throughout his days in ECW and WCW. Even though he never held one of WWF's titles, he did however headline multiple Pay-Per-Views. One such PPV was where we saw Bam Bam completly carry NFL Hall of Famer Lawrence "Don't Smoke Crack" Taylor to a match that was better than it ever should've been. Best known for his large frame and flame tattoo that covered the top of his head, Bigelow was someone who often threw caution to the wind. At close to 400 pounds, one of Bigelows signature moves was a moonsault off the top turnbuckle. Needless to say, Bam Bam could "go" inside the squared circle. All of his work throughout the many promotions he worked for, should be more than enough to have BAM BAM BIGELOW and his career honored with a Hall of Fame induction.
4. Haku / Meng
Recognized by many as the actual toughest man to ever call Pro Wrestling his profession. His legend outside the ring and in bars alone should be enough to get this man his call to the Hall. He's worked with a who's who of legends, garnering the moniker of "one of the best hand's in the business". Respected by anyone who shared a locker room with him, mostly because of the sheer fear that even speaking his name would bring. WCW actually booked Meng as the appropriate monster that everyone of the "boys" knew he was, WWF made him a King and should also make him a Hall of Famer.
3. Sable
Sable's hand-print bathing suit top alone should be inducted but the woman behind those globes deserves it just as much. Sable went from being a valet, to holding the woman's championship and being the first diva to grace the cover of Playboy. Needless to say, she brought a lot of eyes to the WWE product over her years on the roster. Sable's in ring work vastly improved as she got more time in the squared circle and she tamed the "Beast" Brock Lesnar. That is Hall of Fame worthy right there.
2. The Rock
It's just a matter of time before The Rock and all his accolades are enshrined in the Hall but it is quite surprising that he is yet to get his ring. With the other Attitude Era alumni such has Stone Cold, HBK, Mick Foley and even the Godfather already hitting the podium on Wrestlemania weekend, it is a bit of a head scratcher that one of the most recognizable Superstars of all time is still on the outside looking in. Maybe the long wait is just so that when he does get there he can throw out one of his many catchphrases like… "FINALLY, The ROCK HAS BEEN INDUCTED into the WWE HALL of FAME!"
1.Vince McMahon
What more case needs to be made for this majestic man other than he is the reason for Pro Wrestling as we know it today. Vincent Kennedy McMahon created the HOF but it doesn't seem credible until the man himself takes his rightful place among the immortals that roam the imaginative halls of the Hall of Fame.  The Kiss My Ass Club alone, should have its own wing. His Genetic Jack-Hammer should be bronzed and on display but all jokes aside, Vince has brought so much entertainment to our lives as a promoter and performer that the Hall of Fame itself should be named after him. When the day comes that he finally decides to induct himself, the Hall of Fame will finally have the greatest promoter and character heel that has ever graced professional wrestling fans. VKM2017
Honorable Celebrity Wing Mention: Andy Kaufman