The New Era is here. That's what WWE tells us anyway. We hear about it all the time on WWE programming, but have we truly made the jump to the New Era, or is it just the PG Era dressed up in slightly different clothes?
To be fair, we've all been fooled before. At times throughout the PG Era it's felt like WWE was a vehicle that just couldn't shift into the next gear, but it seems now that the company really is making an effort to evolve.
The brand split is back, new guys are in the main event and new performers are getting a chance to step up. WWE has been talking about the New Era for months, but now it finally feels like it means something and here's why.
The WWE Universal Championship
When the WWE Draft was announced fans immediately began to speculate that WWE would be bringing back the World Heavyweight Championship. With two separate brands, WWE needs two major titles so it only makes sense to bring back the big gold belt right?
Well, we all thought wrong because WWE announced a brand new championship called the Universal Championship, and although it might not have the coolest name, it was the right move.
As we all know, when WWE was using both the WWE Championship and the World Heavyweight Championship before, the belts were never treated as equals. It was clear that WWE didn't see the World Heavyweight Championship as being on the same level as the WWE Championship, likely because the belt wasn't created by WWE.
The fact that the Universal Championship is a WWE creation ensures that the belt will be treated as a top title. This new title will hopefully help the WWE brand split return to its former glory, when the top champions on both mattered.
It remains to be seen if this title will be a failure or a success, but if nothing else it proves that WWE is open to trying new things.
Recent WWE Promos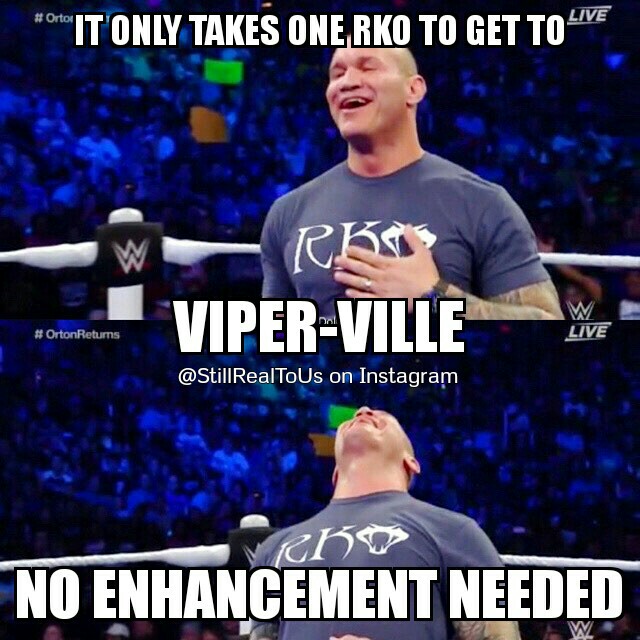 Let's just be honest with ourselves, with the exception of a few here and there, WWE promos during the PG Era were mostly vomit inducing. Most of them lacked emotion, they lacked intensity and any attempt at humor was more often than not met with resistance from the fans.
But WWE promos have clearly turned a corner over the past few months. It appears that WWE has loosened up the restraints on their talent a little bit and it appears that everyone on the roster is having a little more fun on the microphone.
Teams like Enzo & Big Cass and The New Day are telling adult jokes without being offensive, Randy Orton is cracking jokes about Brock Lesnar's failed drug tests and if you listen closely you might even hear the word "bitch" thrown around here and there.
WWE seems to have found a happy medium as of late and they've been able to present certain promos in a way that makes them look edgy, but they've still managed to keep things kid friendly.
Yes, a great deal of WWE's audience is made up of kids, but there are still some of us old senior citizens in our 20s and above that like to tune into the show, and it seems like WWE is starting to cater to the older crowd just enough to make it noticeable as of late.
The Commentary Teams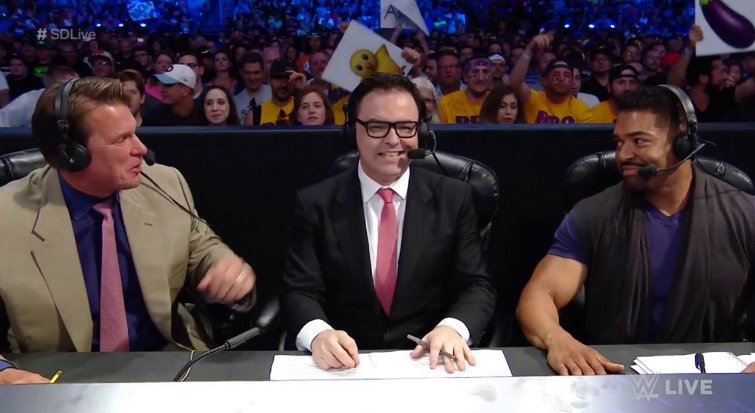 WWE has had quite a few legendary commentary teams sit at the announce table over the years, and several of them have provided us with memorable quotes that will live on forever. But somewhere along the way WWE commentators stopped talking about the matches in favor of promoting things instead, and that's where it all went downhill.
Commentary in WWE has been quite boring over the past few years, but this appears to be a problem that WWE is trying to rectify with the recent shake-ups at the announce table.
Michael Cole, Corey Graves and Byron Saxton are on Raw, while Mauro Ranallo, JBL an David Otunga are holding it down on SmackDown.
Mauro and JBL seem to have great chemistry already with Mauro calling the action and JBL providing color commentary with a little David Otunga in there for good measure.
Corey Graves and Michael Cole seem like they have a little ways to go before they find their groove. Coming out of their first week both guys seemed to be stepping on each other a little bit, but both guys also seemed to be putting more of an emphasis on the action taking place inside the ring.
The WWE commentary teams may still be a work in progress, but they seem to be more focused on calling the action and that's a good thing.
Fresh Challengers For WWE's Biggest Titles
When fans found out that Finn Balor was facing Roman Reigns in the main event of Raw to determine the number 1 contender for the Universal Championship, everyone assumed Reigns would win. But he didn't, Finn Balor did.
When Dolph Ziggler was fighting for a shot at the WWE Championship on SmackDown live this week everyone assumed he would lose the six-pack challenge match, but he didn't.
Now Finn Balor is set to face Seth Rollins for the Universal Championship and Dolph Ziggler is set to face Dean Ambrose for the WWE Championship and both matches are going down at SummerSlam.
If nothing else these two matches are a sign that WWE is much more willing to take chances now than they have been in recent years.
If you had told fans last week that both Dolph Ziggler and Finn Balor would be getting major title shots at one of WWE's biggest annual pay-per-views, most people would have called you crazy.
Dolph Ziggler may be a former World Champion, but let's face it, those reigns were nothing to write home about, so it's nice to see him get a shot, because it's hard to shake the feeling that he still hasn't quite made it to where he should be yet.
Of course Finn Balor's ascension to the top of the Raw roster is indeed something to write home about. Finn has gone straight from NXT to a high profile match at SummerSlam with Seth Rollins.
Where is this going? Will Ziggler turn heel? Does Finn Balor actually have a chance at winning the WWE Universal Championship? I don't know, but it feels fresh and I can't wait to find out.
The Divas Revolution Isn't Just A Catchphrase Anymore
The Divas Revolution isn't just a catchphrase anymore ladies and gentlemen. Of course, WWE has done away with the word "diva" so it's not even a catchphrase at all anymore, but you get the point.
Last summer WWE kept telling us about the Divas Revolution and it felt a little hollow. It was nice to see new female talents trying to make their mark on the main roster, but it seemed like most weeks they just ended up wrestling each other in multi-woman tag team matches that meant nothing.
Here we are almost a year later and the revolution has come full circle. Charlotte isn't just one of the best heels in the Women's division, she's one of the best heels on the roster period, and she did a great job building up the Women's Championship.
This past week Sasha Banks defeated Charlotte to become the new Women's Champion and fans around the world celebrated with her.
The match that Sasha and Charlotte had on Raw was arguably one of the best matches that has taken place on Monday nights over the past few years. Many people also feel that Sasha Banks, Charlotte and Becky Lynch stole the show with their triple threat match at WrestleMania 32 this year.
The performers in the WWE Women's division are strong, charismatic, entertaining characters and WWE is finally promoting them as such, and it's refreshing to finally see the Women's division get the spotlight.
Do you feel like the New Era has arrived? Sound off in the comments below.