Raw has been a really awesome show ever since WrestleMania 32 and the trend continued this week. Shane McMahon was in charge for the third week in a row and he knocked it out of the park once again. There were a lot of great moments from this week's episode and today we're going to take a look at the 5 most important things that happened on Raw this week.
#5 – Dean Ambrose Stood Up For Plant Life
You've got to give it up for the Ambrose Asylum, it's certainly a change of pace from the Highlight Reel. The Jeritron 5000 has been replaced by a cardboard sign on an easel, and now the show has plant life.
Things got a little heated in the ring to start the show when Dean Ambrose and Shane McMahon were rudely interrupted by Kevin Owens, Sami Zayn and Chris Jericho. It was obvious that a brawl was going to break out sooner rather than later and as tensions started to rise, Dean Ambrose reminded everyone that there was a plant in the ring. Shane-O-Mac continued to prove that he runs a different kind of show as he took the plant out of the ring and allowed all four men to brawl in the opening segment.
Raw has had some really great openings since WrestleMania and this one was a lot of fun as well. After years and years of Authority promos opening the show it's nice to see segments where fun stuff happens. You can tell WWE is actually making and effort to make the show feel different, and it does.
#4 – Enzo & Big Cass Tore The House Down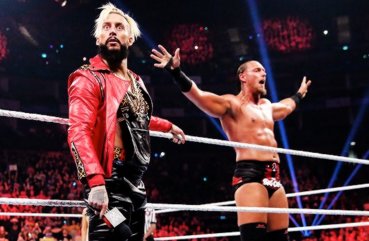 Wow can we just take a second to talk about how awesome it is that these guys got over right away on the main roster? Enzo & Big Cass are white hot right now and they're exactly what the tag team division needed.
With the exception of The New Day and The Dudley Boyz, it's been a while since we've seen a tag team on the main roster that can work the crowd as good as they do. When they arrived in London, they weren't messing around because they blew the roof of the arena.
Enzo & Big Cass defeated The Dudley Boyz and now they will advance to the next round of the tag team tournament. They're set to face The Vaudevillains at Payback and the winning team will go on to challenge The New Day for the WWE Tag Team Championship.
Honestly, it would be a huge mistake not to put Enzo & Big Cass up against The New Day as soon as possible. The crowd reaction for that match would be ridiculous. Fans love both teams and watching them go up against each other would probably make everybody's head explode.
#3 – Natalya Made Charlotte Tap Out To The Sharpshooter
This Charlotte/Natalya feud is really heating up and the ladies took things to the next level this week. Natalya informed Charlotte that she would be getting a shot at the WWE Women's Championship at Payback, but that's not all. Natalya also announced that WWE Hall of Famer Bret Hart will be in her corner.
Natalya met Charlotte in the ring later for an eight person tag team match and she sent a message to the WWE Women's Champion. During the match Natalya got the upper hand and she managed to get Charlotte into the Sharpshooter. Charlotte didn't last very long and Natalya secured the victory for her team when the champ tapped out.
WWE has already proved that the Charlotte w/ Ric Flair vs Natalya w/ Bret Hart formula can work because they've done it before in NXT and now we're getting it at Payback. That's a good thing because Bret Hart's presence at ringside is only going to enhance the match and make it feel that much more important.
#2 – Cesaro Did His Cesaro Suit Ripping Thing Again
WWE has been giving Cesaro the ball for the past few weeks and he's been running with it. Cesaro came out to the ring for Miz TV and The Miz talked and talked and talked, because that's what he does. Cesaro got his lines in as well. They were short, sweet and they worked for him.
Eventually one thing led to another and the League of Nations came out. Then another thing led to another thing and Cesaro did that hilarious suit ripping thing once again. Seriously he's just been tearing it up with that gag. Too much?
Anyway, Cesaro revealed that we were about to see an eight man tag team match and that his partners would be The New Day. The inventors of Booty-O's then made their way to the ring to team with Cesaro to face The Miz and the League of Nations. Cesaro got the victory for his team when he put Sheamus away with the Neutralizer.
#1 – Karl Anderson And Luke Gallows Helped Out An Old Friend
Last week Karl Anderson and Luke Gallows debuted on Raw and everyone knew it was only a matter of time before they crossed paths with AJ Styles. Well, that moment happened on Raw this week and Styles seemed thrilled to see his friends in the WWE. The three caught up backstage, had a few laughs and then went their separate ways.
Later in the night Roman Reigns was cutting a promo and AJ Styles came out to interrupt him. The two men hyped up their title match at Payback and AJ left the ring. As soon as AJ Styles left the ring, Anderson and Gallows jumped Reigns from behind and attacked him. AJ watched from the ramp with a puzzled look on his face.
Backstage AJ caught up with Roman Reigns and he told him that he had nothing to do with the attack. Roman of course told him that he didn't believe him. Styles responded by telling Reigns that he doesn't need help from his friends to beat him for the title.
Business has certainly picked up on Monday nights. AJ Styles vs Roman Reigns was already an interesting match, but now that Anderson and Gallows have gotten involved the stakes have been raised even higher. At first glance it would seem that the band is back together, but it also looks like AJ Styles wants to win the WWE World Heavyweight Championship on his own.
Will AJ Styles let his buddies help him win the belt, and if he doesn't will it cause a rift in their relationship? It's an interesting question and it's created an interesting storyline for the WWE World Heavyweight Championship match at Payback.
How do you guys think it will play out? Sound off in the comments below.