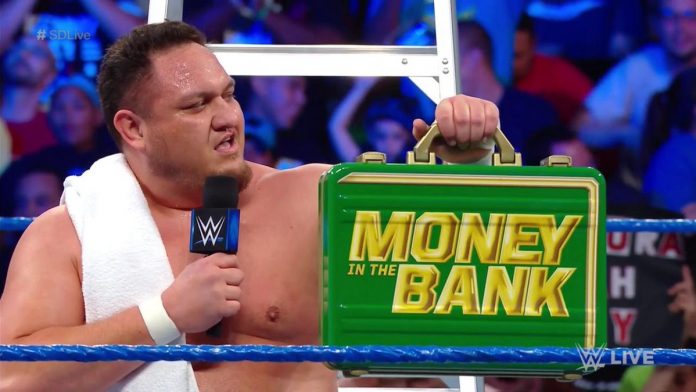 Opening Segment 
Samoa Joe came out and went straight under the ring and grabbed a 12-foot-tall ladder. He put the ladder in the middle of the ring and then he climbed up to grab the green briefcase above the ring.
Joe cut a tremendous promo about how he was going to win Money In The Bank and defeat Daniel Bryan tonight.
Then Joe told Bryan to tell Brie to tell Birdie Joe that "daddy will be home from Money In The Bank but he will be a changed man." Bryan will be drenched in missed opportunity and when Birdie Joe asks Brie who did this to daddy, she can say it was a very bad man named Samoa Joe.
Then Daniel Bryan came out and told Joe he was going to break his leg if he mentions his wife or daughter again. Bryan said they don't have to wait, they can fight right now. But just as the two were about to lock up, Big Cass walked out in a suit walking with a crutch.
Big Cass came out and said they were being children on the playground but what else should we expect from "the shrimp and the blimp." He said that should be his Money In The Bank opportunity and not his.
Big Cass said he spoke to Paige and the match "will not happen" and people booed. "What will happen is Samoa Joe will take on your's truly, Big Cass for the final spot in the Money In The Bank ladder match when I am cleared." Then she said he'll fight when he's cleared and then he said he's already cleared and whacked Samoa Joe in the head with his crutch, sent Daniel Bryan into a ladder in the corner, and then he laid both Joe and Bryan out with the MITB briefcase.
Backstage Segment
Paige was walking around backstage when Mandy Rose and Sonya Deville walked up to her challenging her decisions. They wondered why Asuka got a title shot at Money In The Bank and then Paige booked Rose vs Asuka.
Renee walked up to Paige next and asked if Daniel Bryan is really out. Paige said she didn't expect Samoa Joe to hijack SmackDown. She also didn't tell Big Cass he could go out there and say all of that.
Then she decided the only fair way out of this was Joe vs Cass vs Bryan. Yep, they're teasing Samoa Joe vs Danel Bryan on us people.
Shinsuke Nakamura vs Tye Dillinger
The Perfect 10 started this one on social media and he needs to watch getting under a heel Nakamura's skin because Shinsuke will rip his crotch off at this point.
Tye got the upper hand early on but Nakamura rolled out then Nakamura got back in only to have Shinsuke exit once again to bait Dillinger. Tye went for a dive but Nakamura pulled the rope down and landed a knee at the same time to send him crashing to the floor.
Tye tried to gain an advantage later on by shooting off the ropes but he just took a hard knee to the gut while Nakamura counted until Tye got up to send a message to AJ Styles for their Last Man Standing Match at Money In The Bank.
Nakamura nailed Dillinger with another knee and counted again but Tye got up at the count of six. Then Nakamura put Dillinger across the top ropes and drove a running knee into Tye before counting again but Tye got up at the count of eight.
Dillinger got up and gave his "10" hand sign and then mimicked Nakamura saying, "come on" before landing a few shots to Shinsuke Nakamura while the crowd got behind The Perfect 10 a little bit.
Then Shinsuke nailed a flying knee and a Kinshasa for the win.
Winner: Shinsuke Nakamura via pinfall
It would have made much more sense if Shinsuke would have just let the referee count to 10 ending this match via TKO. But Nakamura delivered another Kinshasa before counting to 10 to prove his point after the match.
AJ Styles gave an interview backstage where he didn't seem too worried about Nakamura because he'll eventually take care of business even though something inside Shinsuke has snapped.
Hey! Let's Have A Dace Off For Some Reason!
Aiden English came out and did a little Hamilton-type rapping/ringing and then Lana came out after Rusev sang Lana is the best, Lana #1 which is something that started as a goof during a promo for the WWE Mixed Match Challenge meaning you really never know when something catchy can be created.
Then Naomi came out to turn the entire arena into a rave during her entrance. Then she brought the Usos out.
Lana danced and then Rusev danced. That was pretty much it. They are both good dancers. Then they danced together and hugged in the ring before leaning on each other back to back. Then Lana nailed a neckbreaker and started pummeling Naomi but The Glow soon got up and the Usos kicked Rusev and Aiden out of the ring. Lana took a Rearview from Naomi before leaving too.
The New Day vs The Bar And The Miz
The New Day gained an upper hand very early on but the heels ended up sending Kofi to the floor as the Woods tried to help his friend but the damage was already done to Kingston.
The heels soon got Big E to themselves and took him out by throwing him into the barricade. The Miz was caught with a kick from Kofi and Woods got the tag to light Sheamus up with kicks as Todd Phillips said he was unleashing his inner Street Fighter.
Then Woods used Sheamus as a platform to stand out in order to hit Cesaro with a flipping dive. He ran back in to score a near fall and then he got back on the top rope but Sheamus kicked his feet out from under him. Kofi nailed a dive off the ring steps on Rusev as Cesaro nailed a top rope double team move with Sheamus for a two count.
Big E got back on the apron and was tagged in to hit a double backstabber but Cesaro kicked out of the pinfall. He avoided a Big Ending and nailed a knee to Big E when he was going for his signature scary dive. The Miz nailed a DDT for a near fall and then chaos ensued for a moment.
Woods jumped over the top rope but Sheamus grabbed him and slung him into the barricade. Kofi nailed The Bar with a dive off the top rope and then Big E nailed The Miz with a Big Ending for the win.
Winners: The New Day via pinfall
Asuka vs Mandy Rose
Carmella came down to join the commentary booth for this match. I thin it interesting how Mandy Rose came out by herself even though Paige didn't ban Sonya Deville from ringside and she still didn't come down with her.
As Asuka walked down to the ring, Sonya Deville answered my question by blindsiding Asuka and clubbing her down in a surprise attack. Asuka got up and limped into the ring anyway and while she fought on kicking Rose with stiff shots Carmella bragged that she was better than Asuka.
Mandy hit a couple moves and hit a knee on Asuka while Carmella boasted her accomplishments and wondered why she wasn't in the WWE Hall Of Fame yet.
Rose stalked around Asuka which was strange to see but Asuka sold it like a champ. But Asuka soon took control and landed a nice dropkick off the top turnbuckle. But Rose returned fire until Asuka finally got in the Asuka Lock and Mandy tapped out.
Winner: Asuka via pinfall
After the match, Mella got in the ring with her championship Cleopatra and raised it above Asuka's head with a coy grin on her face. Asuka just stood still and stared her down while Carmella moonwalked away.
Backstage Segment
Andrade Cien Almas was just standing backstage and Sin Cara walked up to him and tried to talk to him but Zelina Vega jumped in and said he doesn't know him. Then they said something to each other in Spanish and Andrade walked off with Vega. What a debut.
Daniel Bryan vs Big Cass vs Samoa Joe
These three traded turns at taking control. Samoa Joe hit a dive through the ropes, Daniel Byan got ot kick people, and Big Cass did but stuff.
Later on in the match, Daniel Bryan got Big Cass in the corner and kicked away at him until Big Cass caught his leg and pretty soon the two were outside where he hurled Daniel over the announce table.
Daniel Bryan landed a kick to Joe while he was on the top rope and then he booted Big Cass to the outside with a baseball slide. Then Bryan climbed up to hit some mounted punches followed by a hurricanrana that sent Joe across the ring.
Bryan started hitting running dropkicks until Big Cass jumped in and landed a clothesline for a near fall. He pounded away at Bryan's head a little bit more before choking him with his boot.
Cass later took control nailing Joe with an Empire and a Queens River Crossing to Daniel Bryan. Big Cass has very New York names for his moves and you can't teach that.
Bryan nailed Cass and Joe with dragon screws taking their vertical bases down and took this chance to nail Yes kicks to both guys buy Big Cass kicked out and Cass rolled out.
Bryan tried for a leg submission on Cass but Joe snuck up behind him and tried to choke him out. Cass sent Joe outside and then Bryan tried to get a Yes Lock on Big Cass and it finally worked but Samoa Joe grabbed Daniel Bryan and dragged him out of the ring.
Bryan landed a leaping knee off the apron to Joe on the floor and both guys were laid out with that move while Big Cass sold his leg in the ring. Then Daniel Bryan climbed up to the top rope and hit a missile dropkick before Hulking himself up with some Yes chants.
Bryan landed a running knee on Big Cass and then Samoa Joe plucked him off him and locked on a Coquina Clutch until Daniel Bryan passed off.
Winner: Samoa Joe via TKO
Then as Daniel Bryan was getting up after the match, Big Cass nailed the Bearded GOAT with a Big Boot to lay him out to end the night on a real high note.