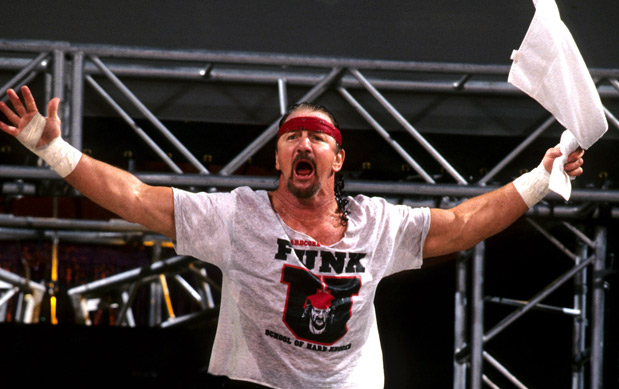 Terry Funk is a WWE Hall of Famer, and he's 73 years old. Funk has tried to retire in the past, but he just can't seem to stay away from the ring. Most people wouldn't dream of wrestling a match at 73 years old, but Terry Funk isn't like most people.
Funk will be returning to the ring next month when he teams up with the Rock 'N' Roll Express to take on the team of Jerry "The King" Lawler, Brian Christopher, and Doug Gilbert at the Big Time Wrestling event on September 22 at the Dorton Arena in Raleigh, NC, and the event on Saturday, September 23 at the Spartanburg Memorial Auditorium in Spartanburg, SC.
During a recent interview with Sports Illustrated Funk was asked why he is returning to the ring at 73 years old, and he says it has nothing to do with money and everything to do with his love of the business.
"I'm back doing what I love," said Funk. "I'm really honest about this, I don't need the money."
Even though Funk is 73 years old, fans who attend the upcoming Big Time Wrestling events are in for a show, as Terry Funk has made it clear that he plans to give the fans all he's got left.
"The crowd is everything in my life. I just love the fans, and I also have a lot of respect for them. They've given me everything I have in my life. They've given me my house. They gave me my ranch when I had a ranch; don't have one now, I sold the damn thing, but I shouldn't have because if went up in value. It's the wrestling fans who've done that, and nobody else, and I understand that. I more than appreciate them, I love 'em. I've got all the time in the world for them. I'll be with them until midnight if they want; if they want an autograph, I'll give them one."
However, Funk fans will want to take advantage of this opportunity to see the living legend in action one more time, as he indicated that this may be his last hurrah.
"I don't know if I can kick some ass or not, I don't know if I can get my foot up that high. I'll bet I can. I've been working out hard at it, and one more time is all I want."
On this week's episode of Still Real Radio we're talking about the road to SummerSlam, who might walk out of the big event as Universal Champion and more. We're also talking about the possibility of another WWE Superstar Shake-up, and which stars might be better off getting sent to NXT. New episodes of Still Real Radio are available every Wednesday, and uou can subscribe to the show on iTunes, and check out the latest episode below.