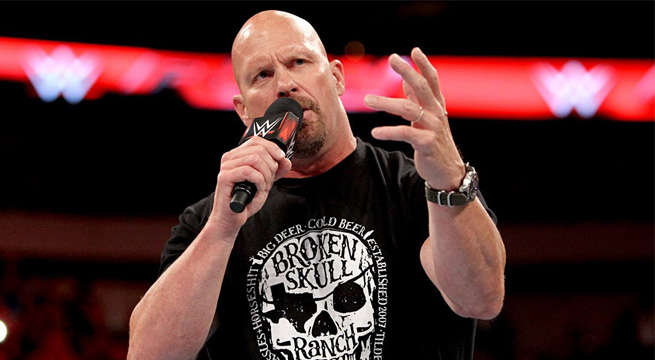 The Bella Twins are back, and on Sunday night Nikki will be challenging Ronda Rousey for the Raw Women's Championship.
Even though Nikki's in the title picture, a few weeks ago it was Brie that everyone was talking about as she delivered some kicks to Liv Morgan which happened to connect with her face and give her a concussion.
Steve Austin addressed the kicks on the Steve Austin Show, and he noted that "s–t happens" when you're in the ring, and Brie Bella isn't a malicious person.
"When you look at that, watching those kicks, Liv was down on the mat, Brie started the kicks. She was laying them in square on the chest, square on the chest. Then, she tried to speed up the cadence. When she sped up the cadence, it took Liv a little bit out of her motion, so, all-of-a-sudden, bam, bam, maybe three times, there was a knockout. [Morgan] goes down. Okay, now those are potatoes. That's on Brie because she threw the kicks and she kind of sped up the cadence when she took Liv out of timing, and she caught her a couple of times [in the head]. Brie's not a malicious person! Brie didn't try to do that! It happened. Okay, so then it happened and that's on Brie," Austin said via Wrestling Inc. "But again, I've hurt people in the ring, people've hurt me in the ring, and that's just the way it goes, so it wasn't a malicious act."
Austin also added that Brie made the mistake of trying to pick Liv up after she was knocked out, but he gave Morgan credit for trying to finish the match.
That's just the mentality of being a professional wrestler trying to finish the match. That's what we do, so credit to Liv for having the gumption to want to come back, and finish, and do her part. And whether Sarah or Ruby said, 'hey, stay down,' I can't put the blame on them They're not exactly seasoned veterans of many, many years inside the squared circle where they're going to be authority figures to Liv and command her to stay out. They're trying to finish the match. So Brie potatoed her and Brie picked her up. When you injure somebody, don't pick them up. Let them go. But when Liv wants to come in, man, she's a gamer. I give her credit for trying to come back. Sometimes, that's the worst thing you can do, but I give her credit for being tough."