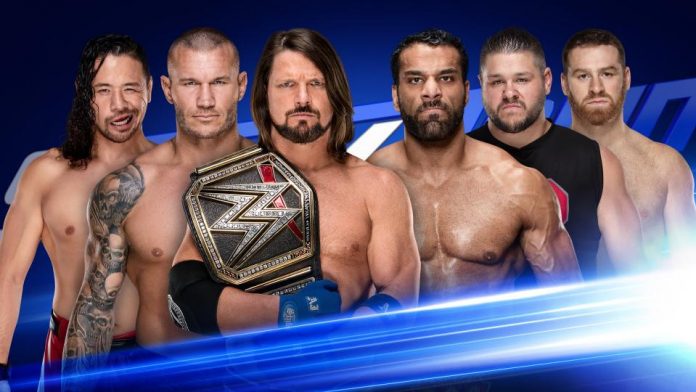 Opening Segment
Daniel Bryan came out to plug the Women's Royal Rumble and the main event of the evening. Then Shane McMahon came out to ruin everyone's good time.
McMahon talked about the spot in the match where Orton almost scored a victory over Sami Zayn at Clash Of Champions, but Daniel Bryan "tripped" and fell on him.
Then McMahon discussed why he held up the three count after Sami rolled up Randy in a pin and he justified it with his emotions getting the better of him. Then McMahon talked about how Bryan hit a quick count to give the win to Sami and Kevin and the crowd was kind of with it.
Daniel said, "I did what I did to protect you from yourself" as "Thank you, Daniel" chants rose up in the building. Shane said he didn't need protection from him and then Daniel said he did… "with all due respect."
Shane told Bryan to be careful because as soon as KO and SZ are doing playing on his heartstrings, they'll stab him in the back and from a business standpoint it'll bite him in the rear.
"From a business standpoint, are you saying I should have done what's best for business?" Bryan asked. Then he talked about how he hated those words and if Shane wanted to fire someone, then he should fire him. "Because I don't want to see Shane-O Mac turn into Mr. McMahon."
"Who's your daddy" chants broke out as Shane replied, "Well Daniel, I respect you implicitly, I trust you, good luck with the show tonight." Then they shook hands and Shane walked away. That was weird.
The Usos vs Shelton Benjamin and Chad Gable
These two teams were facing each other after a fantastic match at Clash Of Champions that saw Gable suplexing anything that wasn't nailed down. But Gable took a lot of damage during the beginning of this contest as The Usos kept the match on lockdown.
Shelty got the tag and started to gain an advantage over Uce. But when he shot Hey to the turnbuckle, he slid to a stop and returned an uppercut to tag in his twin brother. Benjamin took the other Uso down and tagged in Gable to continue the damage.
Benjamin took the tag to get back in and Jimmy Uso hit another uppercut. Shelty went for a suplex but Jimmy landed on his feet and returned fire to leave both men on the canvas. Gable and Jey got the tag at the same time and Jey took it to Gable.
Chad countered a Samoan Drop but ended up taking the move anyway and then Jey hit a hip attack in the corner. Shelton raised up his knee and nailed Jimmy when he went for a suicide dive.
Jey climbed to the top rope and had to fight Benjamin off, he hit a splash on Gable but it was turned into a small package pin which was broken up. Shelton made the blind tag as Gable hit a German Suplex. Then Shelton and Gable hit their double team finisher and that was all she wrote with the SmackDown Tag Team Champions doing the honors after Clash Of Champions.
Winners: Chad Gable and Shelton Benjamin
Charlotte Flair Speaks
Flair plugged the Women's Royal Rumble and thanked the fans. Then Naomi came out to congratulate her on a successful title defense. Then Naomi said she will be entering the Women's Royal Rumble match.
The Riott Squad came out and The Glow said Riott and crew won't be entering the Royal Rumble match. She called them "chickenheads" and yup… there were plenty of "chickenheads" chants which was cute.
Naomi and Charlotte Flair vs Sarah Logan and Ruby Riott
After their little back and forth on the microphone, these four women had a tag match because why not?
Logan kept Charlotte on the mat and hammered away at her leg then she tagged into Riott to continue the damage. But when Flair got loose and tagged in Naomi it was on.
The Glow took kicks to everyone but Logan hit a kick and then Naomi moved out of the way so she hit Liv Morgan on the apron. One Rear View later, and Sarah Logan was out.
Winners: Charlotte Flair and Naomi
The New Day were walking around backstage force feeding people pancakes while dressed like gingerbread men, reindeer, and an elf. Then Rusev came in dressed like Santa and called himself Rusev Claus. Aiden English was dressed like a snowman and Rusev told him to take off the nose because nobody likes noses. Then they set up a match for later. Fun!
Dolph Ziggler's US Title Celebration
Ziggler walked to the crowd to no music while wearing a suit. "I told you so, I told you so" Ziggler said.
Dolph said no one can do what he does… no one! He played a bunch of highlights where he won various championships in WWE and talked about he's gone unappreciated year after year.
"You're not worthy," Ziggler said, "you're not worthy of my presence… none of you are! You don't deserve me." Then he looked at hs US Title and said, "you want something to remember me by?" Then he sat his US Title in the middle of the ring and walked off leaving it there.
Backstage Segment
Daniel Bryan was backstage when KO and SZ walked up and thanked him with a bottle of champagne. Bryan said he didn't do it for them, he did it for the fans and he doesn' drink.
Zayn said Bryan needs to be careful because Shane isn't to be trusted and neither is Orton.
"Wow, you guys are completely dilluliosnal," Bryan said. Then he said if they don't take the smiles off their faces he might fire them himself and then he told them to get ready for their match tonight.
The New Day vs Rusev and Aiden English
Rusev came to the ring throwing Happy Rusev Day shirts in the crowd like a true babyface.
There were tons of Rusev Day chants while Kofi ran around dressed like a gingerbread man playing off the "run as fast as you can you'll never catch the gingerbread man" deal.
Then New Day stole Rusev's Santa bag and started tossing out shirts until they came across some boxer briefs with "Happy Rusev Day" written on them.
Aiden and Rusev jumped them from behind to take them down for a minute. "We want pancakes" chants broke out as the match carried on.
Then the chant evolved into "Heeey we want some pancakes" as the match carried on.
Xavier hit a dropkick to English's back while he was hung up in the ropes, but Aiden countered Woods' next move and hit a big spinebuster.
Kofi took Rusev out on the outside and Aiden took a plate of pancakes to the face covering his face with whipped cream so he looked like a true Frosty the snowman. Then Xavier hit an elbow drop to pick up the win.
Winners: The New Day
Randy Orton, Shinsuke Nakamura, and AJ Styles vs Jinder Mahal, Kevin Owens, and Sami Zayn
This match broke down very quickly as the babyfaces took it to the heels on the outside. Mahal took a suplex on the announce table from Orton to send him back inside.
Once the match started to resemble a tag match once more, Nakamura took it to Zayn and pulled out his chest hair during a spot. Graves actually called attention to that on commentary.
AJ Styles took the tag and roughed Zayn up to tag Orton in but Sami kicked out after two. Jinder Mahal got the tag and took some abuse to Orton before tagging KO back in to continue the assault on RKO.
Nakamura got the tag and started cleaning up. Zayn took several stiff kicks to the chest then Nakamura started driving his knee into The Underdog From The Underground while the crowd chanted "Nakamura."
Choas broke out for a bit as it's bound to happen in this kind of match. AJ Style started running all over the ring delivering some great offense but then the Singh Brothers got involved and the referee ejected them from ringside.
Mahal took an RKO and Orton hit both Singh Brothers with double elevated DDT's. Styles hit a Phenomenal forearm on Owens and Nakamura hit a Kinshasa on Zayn to close out the night.
Winners: AJ Styles, Randy Orton, and Shinsuke Nakamura via pinfall
All of the babyfaces got to pose for the New Jersey crowd as the show went off the air.