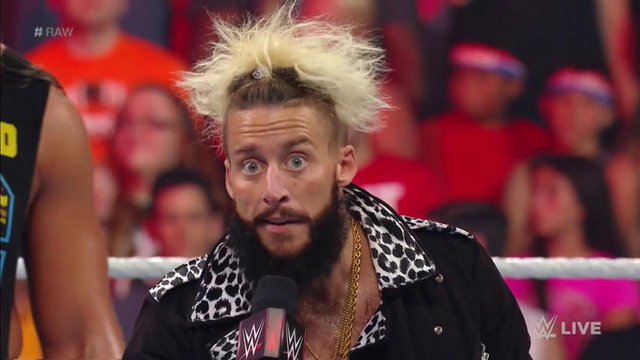 You can't deny Enzo Amore has a lot of money and he knows how to spend it. Even though Enzo has been put on 205 Live it really shouldn't be looked at as much of a demotion, because he'll still be touring and appearing on Raw whenever he can.
Dave Meltzer recently noted on Wrestling Observer Radio how Enzo most likely won't be making a lot less money. After all, he's still a merchandising machine. There's not a whole lot WWE won't slap "Certified G" on and sell, therefore Enzo will still be making that sweet merch money.
Enzo Amore was in attendance during the big Conor McGregor vs Floyd Mayweather fight. He got the chance to hang out with some A-Listers and bounce around very enthusiastically which should be expected because it's Enzo.
Thankfully, Amore used this chance to post a few videos on Instagram. He obviously had a good time and he really should have as well because he paid a lot to be there. Enzo proudly showed his ticket with a price tag of $10,000.
https://www.instagram.com/p/BYRQfvygUTv/?taken-by=real1
But as you can see Enzo got his money's worth because he used this opportunity to rub elbows with some pretty impressive people.
Enzo was able to snap pictures with celebrities like Steve Harvey, Chance The Rapper, Jamie Foxx, and Jeremy Piven. The place was electric when all was said and done leaving everyone with great memories while wishing big fights like this would happen more often.
https://www.instagram.com/p/BYSAHNwgW52/?taken-by=real1
https://www.instagram.com/p/BYSG1rqgewK/?taken-by=real1
https://www.instagram.com/p/BYSRS40AdtX/?taken-by=real1
Even though Conor McGregor received a pretty impressive reaction, Enzo didn't seem impressed. "They're louder at WrestleMania, kid" he replied as The Notorious One made his way to the ring. That was a very Enzo Amore thing to say, but what else can you expect from The Realest Guy In The Room?
https://www.instagram.com/p/BYSQ73ZAcVI/?taken-by=real1