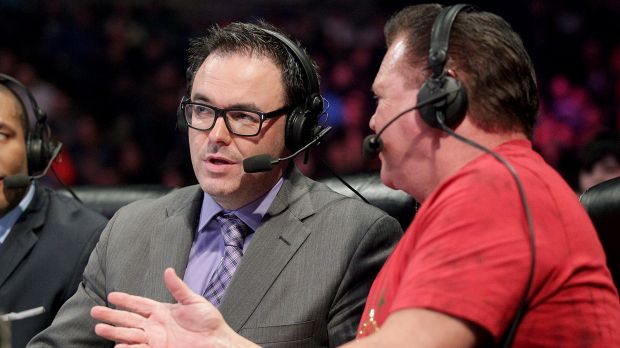 Mauro Ranallo is the lead commentator on WWE SmackDown and most fans seem to agree that Mauro is a breath of fresh air at the commentary table. Mauro Ranallo brings a very intense style to WWE and he recently spoke to Sports Illustrated's Extra Mustard blog about what it was like to make the switch from NJPW. Mauro said that making the jump was easier than he thought it would be, but Vince McMahon did tell him to lay off the play-by-play.
"I thank my lucky stars–the two critiques I've received from Vince are it isn't radio–and I'm aware of that, even in all my other sports. It's like Doc [Mike] Emrick–I love him and think he's one of the greatest announcers ever. A lot of my friends don't feel the same way because he never stops talking, but I just think he's so creative and brings the action to life, and that's what I try to do with my storytelling. Vince said lay off just a little bit on the play-by-play."
Mauro Ranallo always sounds like he's excited when he talks and most fans seem to agree that his enthusiasm is contagious. Ranallo also revealed that Vince McMahon had to learn to let Mauro be Mauro.
"At first Vince thought, 'Not everything is WrestleMania,' but I think he's learned that's just me. Everything is WrestleMania to me. I go into calling any match, any fight–I don't care if it's the main event or the opener–that these guys have put in their work, they're here for a reason, and there's a reason I'm calling this fight, so I do want to give it as much attention and respect and energy as I would the main event or a championship fight."
You can check out the full interview here.