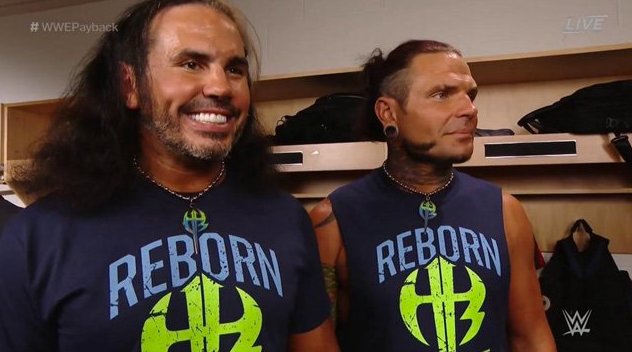 Matt Hardy and Global Force Wrestling aren't on very good terms right now, that's no big secret. Earlier this year when The Hardys parted ways with the company, they thought that they would be able to take the Broken Hardys gimmick with them, but Anthem has since prevented them from doing so.
Related: Restaurant Rules Out Partnership With GFW Due To Broken Hardys Gimmick, Matt Hardy Reacts
Both sides have been taking shots at each other on social media for months, but it doesn't look like The Hardys will be getting the gimmick back any time soon, because GFW president Ed Nordholm has said that he's done negotiating with House Hardy.
Matt recently took to Twitter to share a fun fact about GFW, and he noted that Shelton Bejamin, King Maxel and his personal scribe did not sign release forms allowing their images to be aired on GFW programming.
FUN FACT-Benjamin, Maxel & Scribe weren't paid & DID NOT sign releases from TNA/GFW to allow their images to be aired on ANY media, esp TV. pic.twitter.com/W8fVhpKehk

— REBORN by FATE (@MATTHARDYBRAND) August 23, 2017
For months fans were trying to figure out what Kurt Angle's big secret was, and when Kurt finally came clean, he revealed that Jason Jordan is his illegitimate son. Jordan was then moved from SmackDown Live to Monday Night Raw, and Jordan's big move left American Alpha member Chad Gable without a tag team partner.
Luckily SmackDown Live General Manager Daniel Bryan came up with a plan to fix the situation when he signed former WWE Intercontinental Champion Shelton Benjamin.
Shelton Benjamin made his return on this week's episode of SmackDown Live, and it looks like he's going to be teaming with Chad Gable from here on out.
No one seems to be more excited about working with Shelton Benjamin than Chad Gable himself, and he recently took to Twitter to express his enthusiasm.
Enthusiasm + Experience

This is going to be sick. pic.twitter.com/R9nuUjUHLU

— Chad Gable (@WWEGable) August 23, 2017