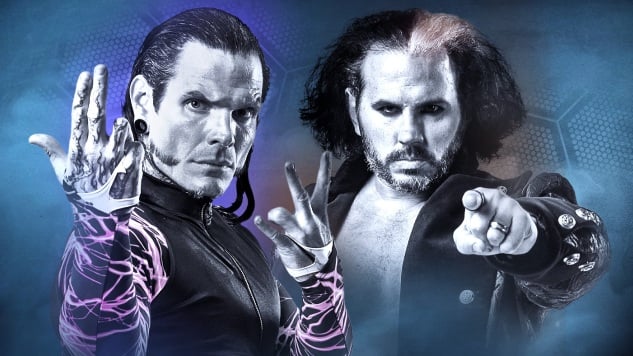 Broken Matt Hardy has made it well known that his TNA contract is set to expire in February, and everyone's wondering what's next House Hardy. TNA obviously want to resign Matt and Jeff Hardy, but as of this writing the brothers have not signed new deals with the company.
The Wrestling Observer Newsletter reports that TNA officials have offered Matt and Jeff Hardy two different types of contracts. One deal would be for a guaranteed contract that would allow The Hardys to work with TNA, but keep full control of their bookings outside of the company. The other deal would be for a higher guarantee, but TNA would have to approve their outside bookings.
According to the report, it looks good for them to stay with TNA, and Matt Hardy is leaning toward staying with the company because he has full creative control over his character right now, which is something he likely wouldn't have if he returned to WWE.
It was recently reported that there is interest from WWE, but Matt Hardy has made it clear in interviews that maintaining creative control is very important to him. It's not hard to see why, as his Broken Universe has completely revitalized his career, and made him one of the hottest acts in all of professional wrestling.
The Hardys recently challenged current WWE Tag Team Champions, American Alpha and Cesaro & Sheamus after they announced their Expedition of Gold in a live Facebook video.
Broken Matt Hardy said that they will appear on Mr. MeekMahan's show if they must, but that seems highly unlikely to happen if they do indeed end up signing new deals with TNA.
Related: The Hardys Tell WWE Tag Team Champions To Man Up And Accept Their Challenge