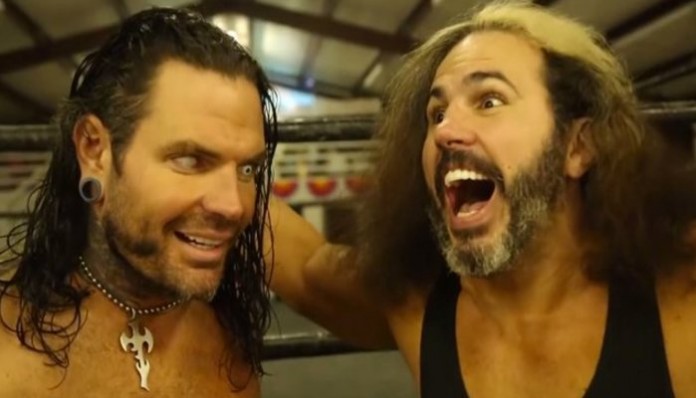 The Broken Hardys shocked the world when they won the ROH Tag Team Titles on Saturday night. It was shocking because a few days prior to their title win it was reported that the team had entered talks with WWE about a possible return.
After they won the titles at Manhattan Mayhem, Matt Hardy told the fans in attendance that they signed the most lucrative deal in Ring of Honor history.
Following the title change, it was reported that their deal with ROH is a long-term deal and they won't be returning to WWE in the near future. However, it looks like that may not be the case.
Bryan Alvarez noted on the latest episode of Wrestling Observer Radio that he's heard from two different sources that Matt and Jeff Hardy only signed a short-term deal with Ring of Honor. Meltzer followed up by saying that he still has not been able to confirm the exact length of the deal.
There's a lot of speculation in regards to how long The Broken Hardys will be sticking with ROH. Their next move should become clear over the next few days as they're currently only booked for events through April. If the team does start confirming events for May, then that will likely be a good indication that they are sticking with Ring of Honor for a while.
Either way, Broken Matt Hardy continues to tease an appearance in WWE, but then again he was also doing that while the brothers were signed to contracts with Impact Wrestling.
However, in the past WWE stars have normally ignored Broken Matt Hardy's comments, but Karl Anderson took it upon himself to say hello.
@MATTHARDYBRAND @LukeGallowsWWE Hello #Broken One..

— Karl Anderson (@KarlAndersonWWE) March 6, 2017
One way or another it's impossible to deny that whatever the brothers are doing, they're doing it right. The wrestling community is talking about The Broken Hardys and it doesn't look like we'll be stopping anytime soon.