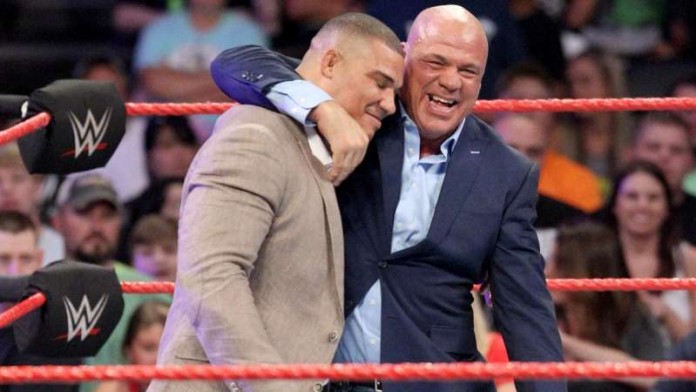 Kurt Angle had a big announcement to make on Monday Night. He was afraid it would damage his reputation and tarnish his legacy as an Olympic Gold Medalist. But in the end, it just turned out he had an illegitimate son who also happened to be a WWE Superstar. Because that happens all the time, right?
Jason Jordan was announced as Kurt Angle's baby boy. A lot of people were left wondering what was going on in this situation. Jordan is getting a push and American Alpha are done, those are the only two conclusions we can really draw at this point.
If you're feeling bad for Jordan's old friend Chad Gable then don't fret. Word is he is in line for a special little something over on SmackDown Live very soon.
Having the General Manager of Raw as a father has to have its perks too. Jim Ross recently commented how he thinks Angle and Jordan could eventually become great heels. But for now, it looks like they're as babyface as they can be. Of course, that won't stop Jordan from getting very close to his father.
It might also be a plus if you happen to know Jason Jordan from your days in NXT. Dash Wilder of The Revival recently tweeted out to Jason telling him to ask his daddy if The Revival can get a shot at the Raw Tag Team Titles. He used the facts that The Revival is undefeated against The New Day and Hardy Boyz as his reasoning and he has a pretty good point.
Jason Jordan replied that he's busy bonding with his long-lost daddy so he's a little too preoccupied for that. Along with his reply, Jordan included an actual photo of himself and Angle on a roller coaster. It's a real picture and not photoshopped at all.
"It's true" Kurt Angle replied.
This story just keeps getting more amusing.
Undefeated against New Day. Undefeated against the Hardys. When do we get a title shot? @RealKurtAngle. @JasonJordanJJ can you ask daddy?

— Dash (@DashWilderWWE) July 18, 2017
.@DashWilderWWE I would ask but we're a little busy catching up! pic.twitter.com/oCm1Sd8BPV

— Jason Jordan (@JasonJordanJJ) July 19, 2017
It's damn true.

— Kurt Angle (@RealKurtAngle) July 19, 2017