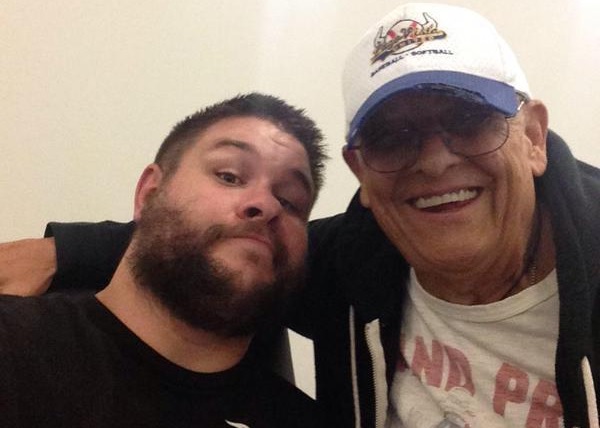 Dusty Rhodes was a pro wrestling legend who we lost way too soon. He was still at his best at the time of his passing as a mentor and instructor at the WWE Performance Center.
The American Dream's passing left a hole in the WWE Performance Center which will never be totally filled. I can't write about Dusty being gone without getting choked up and I know I'm not alone. Kevin Owens got to know Dusty Rhodes the best he could during the short time he was in WWE's developmental territory and he credits Dusty Rhodes with a lot as well.
Kevin's skills on the mic became a topic of conversation on E&C's Pod Of Awesomeness where The Prizefighter turned things around and credited "The American Dream" Dusty Rhodes' influence on his career and how he tells a story in the ring.
"At the very least you have to learn the whole reason for the promo and make sure you deliver that because that's important to the story you're telling so I make sure I know where I'm going but I don't wanna learn everything by heart because then I feel like it's very hard not to sound like it's rehearsed."
"But a lot of the credit for that goes to Dusty Rhodes again. Because I mean, that was always his thing," Owens continued. "So we would call his class at the Performance Center, we'd call it 'promo class' but that's not what he called it, he called it 'Communication Skills.' Becuase to him you're not cutting a promo, you're communicating. And sometimes he would have us cut promos without saying a word. He would just say, 'can you communicate this without talking?'"
"Sometimes he would change the set-up. Usually, it was just a bunch of chairs and a black curtain next to one of the rings and we would go up and cut the promo in front of the audience which was ten, fifteen, twenty of the wrestlers from the performance center. So sometimes we'd come into class and there'd be no black curtain. Now we'd be cutting a promo in the ring as if we were on Raw or SmackDown. He'd have us walk around the ring, he'd tell us 'the ring is your canvas, you don't have to stand in the middle — you can go here you can go there you can walk there as long as you're aware where the camera is you can go anywhere in this frame to make it your own.'"
"You know, he had all these tricks to him it was very important that a promo doesn't sound like a promo. So that really helped me as well.  You know I only got to work with Dusty for ten months before the time I showed up at the Performance Center and the time I got called out on the road and about a month later he passed away. But man, the time I had with Dusty was invaluable and I'm so thankful for it."
"I was fortunate enough to learn from a lot of people throughout my career but nobody made as much of an impact in such a short time on me as Dusty did. So a lot of the credit in the promos goes to him for sure."
If you use the quotes in this article please credit E&C's Pod Of Awesomeness with a H/T to Still Real To Us for the transcription