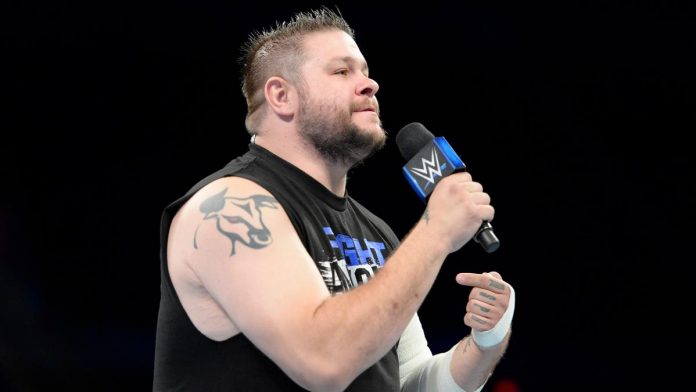 When you're a WWE Superstar going out in public isn't always the easiest thing to do. Wrestling fans are everywhere, and when a fan spots their favorite wrestler in public, they often want to take a picture with them. Some fans even do so without asking for permission first.
Related: Kevin Owens Says He Didn't Do His Best Against AJ Styles
One fan apparently spotted Kevin Owens in public recently, and her boyfriend took to Twitter to let Owens know that his girlfriend was wearing Kenny Omega gear, and he asked the former United States Champion to go full heel on her.
Owens responded by telling the fan that his girlfriend went full heel on him, because she took a picture of him and his daughter without asking permission.
@FightOwensFight my girlfriend just spotted you. She's in Kenny omega gear. Please go full heel on her.

— Joshua Michael (@joshuamichael) October 13, 2017
She went full heel on me already by trying to sneak a picture of me with my daughter instead of asking me for one like a decent person. https://t.co/eU2jjygZqD

— Kevin Owens (@FightOwensFight) October 13, 2017
Another fan chimed in saying that Owens probably would have been mad if the fan had interrupted his family time to ask for a photo.
Maybe she didn't want to bother you? You'd probs he just as mad if she interrupted ur family time too ask for a photo js

— KH (@_kane_h) October 13, 2017
But Kevin Owens made it clear that nothing irritates him more than when fans take photos without asking.
Nothing irritates me more than people trying to take pics of me without asking when I'm with my family. Asking is always the way to go. https://t.co/JRsR5PG826

— Kevin Owens (@FightOwensFight) October 13, 2017
Asking is ALWAYS better. I might not be able to say yes to a picture every time but I always appreciate meeting fans. https://t.co/J74gRvOmy9

— Kevin Owens (@FightOwensFight) October 13, 2017
So, to anyone out there who might be interested in taking a photo of Kevin Owens, make sure to ask him first. Of course he always has the right to say no, but regardless of what he says, he prefers to be asked before a photo is taken.