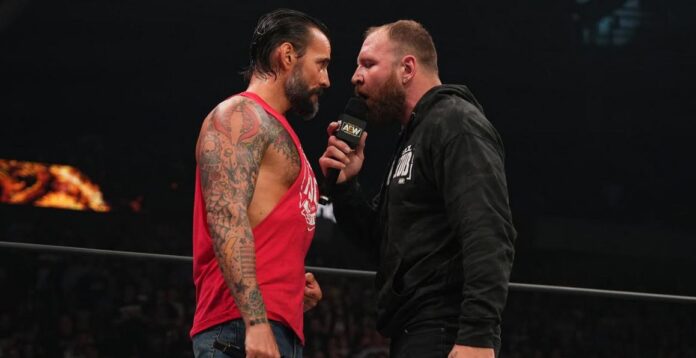 Last summer CM Punk returned from injury while he was the AEW World Champion and he confronted interim AEW World Champion Jon Moxley. Punk went on to lose a squash match to Moxley shortly after on Dynamite, but he won the AEW World Championship for the second time in his career a few weeks later when he faced Jon Moxley at All Out.
CM Punk recently got the wrestling world talking when he briefly posted an Instagram story where he claimed that he wasn't cleared for the squash match, and that Moxley refused to lose to him when he posted the following:
"SIGH. I wasn't cleared to come back to wrestle yet. Then plan was to wrestle at the ppv. I sat and listened to moxleys Rocky three idea. I explained how I'd never seen a Rocky movie.I and thought the idea sucked but if the boss wanted to do it whatever. He said he wouldn't lose to me. I'd never experienced someone refusing to lose to me. I just laughed. I asked Tony if this was what he wanted. He said yes. He's the boss so I said okay but I'd need to be cleared first. They kept saying it could just be a squash se l didn't need to be cleared. I scoffed at that. My health i more important. Dave Meltzer is a liar. Jericho is a liar and a stooge. There were plans but plans always change but I'll never put a company above my health ever again."
Jon Moxley recently appeared on The Sessions where he shared his side of the story, and before he directly addressed the CM Punk situation he explained that he was not under contract with AEW last summer.
"It's f**king annoying. Just because somebody said some stupid s**t on social media, like that's not news. But it is. It ends up being a thing. I don't wanna get dragged into this dumb s**t. I could f**king unload on a lot of f**king people right now. And when I start getting dragged into this s**t, it tempts me to do that. But I'm not gonna f**king sink to that level."
"But, I will say this, just gonna give you like a tidbit of information from my point of view. The entire summer, I was not under contract. No contract. Free agent. I was at SummerSlam weekend wrestling f**king Desperado and s**t, the day of SummerSlam. F**king suplexed him on a bunch of aluminum cans and s**t, cut in half, it was f**king dope."
"I could have walked into SummerSlam that night. With the AEW f**king belt. If I had been so inclined. Nobody knew that because I don't put my s**t out there in the world and let everybody know every f**king thing about my business, you know. I was not under contract."
Jon Moxley went on to explain that when he got out of rehab his contract was coming up, and he wanted to just ease back into wrestling. Moxley added that when he returned to AEW he was sober and "having so much fun" working with Bryan Danielson, William Regal and doing the Blackpool Combat Club. He noted that he still hadn't made a long term commitment to a new deal with AEW at this time, but was in the mindset of, "If everything just stays exactly as it is right now, I'll be here forever."
The former AEW World Champion then reiterated that he didn't have a contract while saying that he felt he was bending over backwards when it came to the situation with CM Punk.
"That being said, during this time period, the night that 'what's his d**k' (CM Punk) is talking about in Minneapolis, the night he came back and was hopping out on one foot, bumping around Inner Circle or whatever after me and Jericho wrestled – a bada** match by the way. So we're talking later about stuff. Now keep in mind – this is my whole point.
"I basically don't work there. For all intents and purposes, I don't even work here. Tony (Khan) is not my boss. I don't even have to be in this room. I don't have to do s**t. So even me being in this room and offering – and agreeing to – a storyline, that puts you over at the pay-per-view, if anything, I'm bending over backwards. For Tony. And for this dude (Punk). And for the company and everybody. I didn't have to. I didn't have to do s**t. If anything, I was bending over backwards. So, that's it."
Jon Moxley lost to CM Punk in the main event at All Out and Punk has not appeared on AEW programming since. Shortly after the pay-per-view the AEW World Championship was vacated and Moxley ended up winning a tournament to become a three time AEW World Champion. Ultimately it was announced in October of 2022 that Jon Moxley signed a new deal with All Elite Wrestling that will keep him with the company through 2027.
H/T WrestleTalk.com