Goldust is a true WWE legend. Being in the business for over 30 years, "the bizarre one" has seen it all when it comes to Vince McMahon's squared circle. He's looking forward to meeting his long-time fans at Detroit's upcoming pop culture convention Astronomicon, which begins on February 8. Before sharing stories with his supporters in-person, Goldust sat down with Still Real To Us in an exclusive interview and talked about his brother Cody, and the bright future of AEW.
"I'm going to Detroit, man. There's a lot of history with Goldust and Dustin Rhodes," says the wrestling veteran before his Astronomicon appearance. "I've always loved Detroit. Great city. The fans always treated me very, very well there. Even the Red Wings had a jersey made for me at one point."
When one of the best ice hockey teams in the NHL decides to celebrate a professional wrestler's career, it means you've officially made it. Goldust experienced many highs and lows throughout his memorable career as a sports entertainer. As Goldust matured later on in life, he realized it was a lot more fun to sit down with his fans, and appreciate their continued loyalty.
"Giving back is very important. The fans have given me so much for 30 years now. It's only right. It's kind of like me giving back to the youngsters in the business that are coming in. I like teaching them what my elders taught me."
There's been a lot of variations of the Goldust character over the decades. Since debuting in 1995, Goldust's flamboyant and sexually ambiguous personality kept the attention of the audience throughout his multiple WWE runs. The award winning WWE Network allows fans, both old and new, access to a massive video library where they can re-watch some of wrestling's hottest moments on a whim. It's a different world from the days where collectors had to invest a pretty penny into tracking down a specific VHS tape that contained a rare clip of footage. Goldust thinks that the change in technology has introduced his character to a broader audience; granting him a new lease on the character's shelf life.
"There's so much out there where kids today can grow up and know the Goldust character now. It's not like how it used to be," Goldust tells Still Real To Us. "Social media and things like that–it's so out there. You can get to know someone when you're a little one."
As WWE continues to evolve as the global leader of the wrestling industry, so has the practices of the company. In the late 1990s, the then World Wrestling Federation would give their superstars the ability to have creative influence over the direction of their characters. The Attitude Era provided a goldmine for fans who loved outrageous personalities and skits. Stars like "Stone Cold" Steve Austin and The Rock became worldwide phenomenons. With the company currently producing dozens of hours of live content every week for television and the Internet, the scripting of their programming plays a major role in how the company currently operates. Goldust reveals to Still Real To Us that because of his tenure and standing in the organization, he still has an authentic voice when it comes to his on-screen presence. His intense rivalry with former tag team partner R-Truth in May of 2017 proved just that.
"We have a group of writers. We have a lot of writers. Some guys come in, and really don't know a lot about wrestling. A lot of them are soap opera writers. There are a few that have watched our industry, and know how to do things," says Goldust. "They are good writers, but sometimes they would write things that I wouldn't take."
Goldust knows better. He learned the ropes from his father, WWE Hall of Famer Dusty Rhodes. Rhodes, who had legendary battles with wrestling icons like "Nature Boy" Ric Flair and "Macho Man" Randy Savage, left an everlasting impact on the creative side of the wrestling business before his passing on June 11, 2015. "The American Dream" believed in committing to a character, and Goldust tries reminding the next generation of professional wrestlers to never lose sight of that–no matter what the script says. His father, who served as NXT's head writer and creative director, would instill those values into the NXT roster.
"I try to tell all the young kids this, 'Man, you have to make it your own.' You cannot read [the script] just word for word because it's going to come off as not your true self. A lot of the kids today won't do that," says Goldust. "They will read it word for word and it doesn't resonate with the crowd because it's just going through the motions. It's not the character. You have to put in your own work. You have to put out certain facial expressions and mannerisms. You have to find your character. You have to find yourself."
The Goldust character comes easy for the painted wrestler in 2019. He found his role years ago. Performing in front of the current audience is second nature for the longtime WWE competitor.
"When I'm given a script, the one thing I look forward to is being in that room with the director's chair," Goldust tells Still Real To Us. "When we started to do the director's chair thing again, it kind of led me to have free rein with it. I would say, 'You gotta let me do that, man. Otherwise, I'm just a guy in gold talking.' You gotta get in the character, you know what I mean?"
In order to stay true to the character's roots, Goldust took liberties into his own hands to make sure that the role he was playing would be portrayed in an accurate light.
"I changed up scripts left and right," Goldust reveals to Still Real To Us. "I hate following a script word for word, and trying to memorize something like that. It's not something that I, or the character would do."
Besides gaining valuable insight from his colorful father, Goldust had another powerful mentor in the early stages of his career. WWE CEO Vince McMahon taught Goldust to make every second count. It's an important lesson that the former three-time Intercontinental Champion never forgot. He holds McMahon's advice near his heart at all times.
"Vince taught me this, years and years ago. He said, 'Okay you're going to have two minutes to talk. Two minutes is a long time to keep the fans interested. So you better be damn good at what you're doing in two minutes to keep the audience tuned in,'" Goldust recalls.
These days, the WWE superstar knows how valuable those precious seconds of airtime are. He treasures any amount of time he is given to make an impact on viewers who are watching at home.
"I'm not one of those guys who [the fans] are going to turn the channel on. They want to see what I have to say, in the way that I say it. If kids could learn to do that–man, that's the hard thing. That's 90 percent of our business right there: learning how to talk."
Knowing how to effectively communicate in front of the camera is an essential part of the professional wrestling business. In order to truly succeed, wrestlers must be ultimate trash-talkers. Tickets to live events just don't sell themselves. The wrestlers have to embrace their characters in order for fans to pay for the seats. For some sports entertainers, the skill comes easy. For others, it never comes at all. There is one ultra charismatic wrestler that Goldust tells fans to keep an eye on.
"Number one would be the Velveteen Dream. I think he's got the whole package. He's grown into his own," states Goldust. "As long as they let him do his character, and he continues to grow that character, he's going to shine."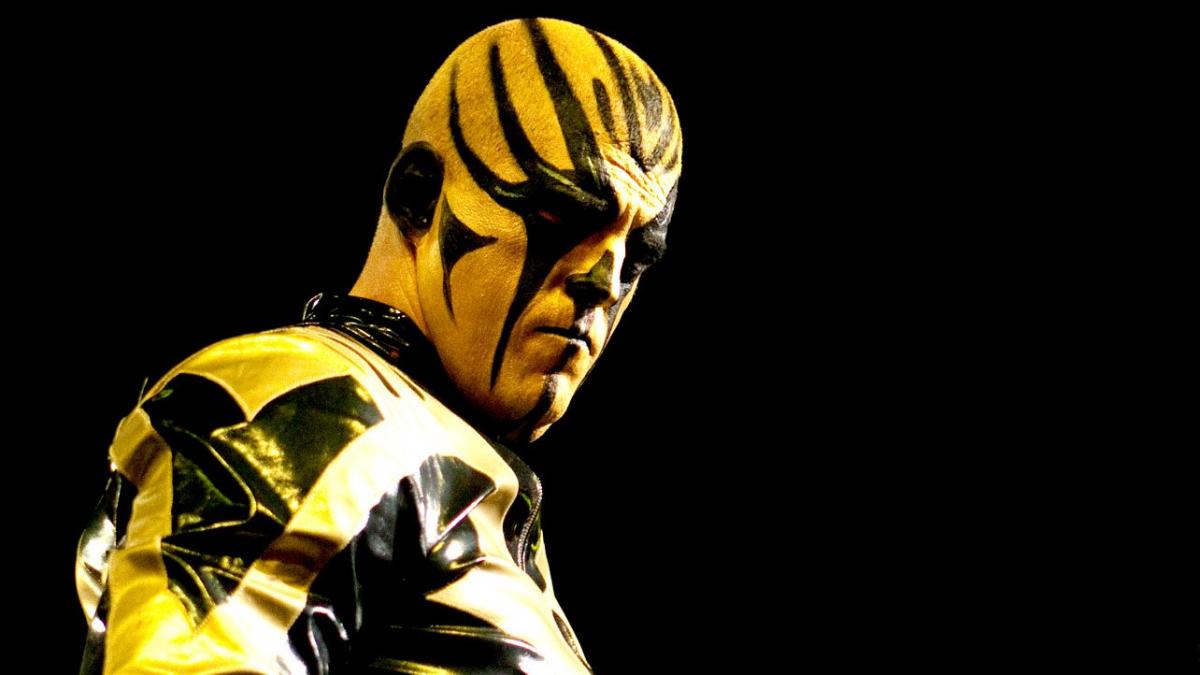 Goldust's brother Cody is another shining star on the wrestling circuit. Since the shocking announcement of Cody's new promotion, All Elite Wrestling, fans from all over the world have been glued to the Internet searching for more information about the company. Signing former Ring of Honor stars "Hangman" Adam Page, and Christopher Daniels was a bold move for the startup. Following those names, Chris Jericho, one of the most well-known wrestlers in the industry, recently signed a major contract with AEW. Goldust is not surprised that Cody has found his calling. He is a Rhodes, after all. The family name is up there with the McMahons, Harts, and Von Erichs. It's not bad company to keep, if you ask Goldust.
"I was born into the business. It's in the blood. It's in Cody's blood. It's in my family's blood. It's something that we absolutely love. There's such a deep passion in our family for this business," Goldust tells Still Real To Us. "You've gotta have that passion for this business in order to be successful. If you come in, and you're a bodybuilder or some kind of fitness expert, who just wants to try wrestling–that's fine. That's great. I think it takes a special kind of person who grew up in the business that makes it special.
With AEW picking up serious momentum, fans are pulling for the new wrestling company to step up and offer WWE healthy competition. Goldust thinks Cody is going to learn a new aspect of the business. He knows his brother will be able to focus on making his latest venture a success, while dealing with obstacles along the way.
"I can't wait to see what he does with it. I'm very proud. I know dad right now is just grinning ear-to-ear and is very proud of Cody. Cody has a lot of my dad in him in the sense of business," says Goldust. "He's got just about the whole package. Let's just put it like that. Cody has everything that dad has. He just has to grow a little more, and learn just a little bit more as far as the business is concerned"
It's no secret that Cody is on top of the world right now. He has the support of the fans, and the money behind him in order to make AEW work. Goldust has a few tips for his brother if he comes across problems later down the road.
"[Cody is] going to come across some issues with things like booking; a lot like dad did. Not everyone is going to like him because he's the booker. If he can learn from dad's mistakes, and what dad did, I think he's going to be fine," states Goldust. "The landscape of the pro wrestling industry has changed a lot. Let's all make some money, let's grow something and watch something take off. I think it will. You got some big people behind it. Tony Khan is a big dog."
While his brother is getting AEW in order, Goldust only has one regret in his career: not having a WrestleMania match with Cody. It was something that Goldust wanted to accomplish in his latest WWE stint, but the stars were never aligned. If it were up to him, it would still be a possibility.
"I believe that would have been great business. I don't know if the storyline is right, but I would love to do that. He's not there. I'm still there, but I'm at the tail end of my career where I want to do other things, like acting," Goldust tells Still Real To Us. "My time is over. It's time for me to pass it on to the young ones. Yes, I can still go out there from time to time as an attraction, and hang with the best of them. What do I want to do, man? I've done everything that there is to do in this business."
Even though Goldust might not have the chance to battle Cody on the grandest stage of them all, he has fond memories of other matches that solidified his legacy in WWE. Fans will always cherish his clash with the late "Rowdy" Roddy Piper at WrestleMania XII, and his comeback against The Shield.
"I've had a WrestleMania moment. [Roddy] Piper is in the top three moments of my career. Another one was me and Cody vs. The Shield," Says Goldust. "Cody and I had a match at Fastlane which didn't do it justice. We should have had a WrestleMania deal."
The Fastlane match was the first time Goldust and Cody worked together. It didn't take off as they wanted it to. They were limited with time, and creative plans. The brothers clicked in the ring when they worked a two-week European tour together. Goldust says that their in-ring chemistry really showed during the live events. They tore the house down, and fans were begging for more.
"The matches that we had were some of the best matches that I've ever been involved with in my life. The crowd was loud and crazy. Everything flowed," says Goldust. "We could go out there, and have fun. That's what I love the most: the live event feel. Pay per views and television are so fast paced. It's very hectic. It doesn't do it justice in a storyline situation."
Currently, Goldust is looking forward to meeting his fans at Astronomicon next month. He thinks it will be a great chance for him to shake hands with the people who have blessed his life. He wants to take pictures with families and have some fun.
"This is a chance for me to meet my fans one-on-one, instead of an arena setting–where I'm just walking to the ring, high-fiving kids, and hugging babies. I can actually sit down and talk with them, and share stories. They can bring up stuff that I just don't freakin' remember. I love meeting the fans at this stage in my career," concludes Goldust.
Astronomicon, which takes place from February 8 to February 10, will also feature other wrestling superstars, including Scott Hall, Scott Steiner, Jake "The Snake" Roberts, and The Boogyman. You can purchase tickets to the convention HERE.