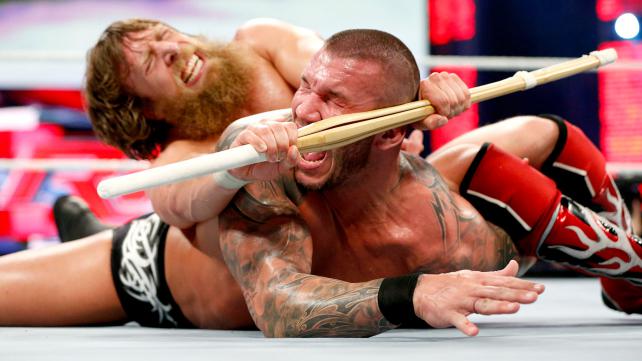 When Daniel Bryan had to retire it was a sad day. He still had the passion to perform in the ring, but WWE's doctors wouldn't let him compete.
But since then a lot has changed. Daniel apparently found his own doctors and some treatments are in the process to correct those brain lesions some of WWE's doctors feared.
There have been a few people close to Daniel Bryan saying he will find his way back to the ring sooner or later. He loves pro wrestling and has said he considers it his therapy. Nobody does it better than Daniel Bryan and when he's on his game there's no stopping him.
He seems focused enough to make it public at this point that he wants to return to the ring. During a recent Q&A on Twitter Daniel was asked who he would like to face when he returns to the independent wrestling scene. Daniel Bryan's response was pretty awesome, to say the least.
I wouldn't mind tapping out the entire Bullet Club @CodyRhodes @MattJackson13 @NickJacksonYB @MartyScurll https://t.co/jTeYx1cNir

— Daniel Bryan (@WWEDanielBryan) September 21, 2017
Cody Rhodes and Daniel Bryan have teased that they'd like to face each other before. Daniel congratulated Cody on his ROH World Title win and said he'd like to take it from him.
The Grandson Of A Plumber replied to Daniel Bryan's veiled threat to the Bullet Club by saying Daniel knows where to find them and if he's having trouble then they know where to find him.
Well…ya' know where to find us

and I know where to find you https://t.co/zGKhqtgO2b

— Cody Rhodes (@CodyRhodes) September 21, 2017
Matt Jackson from The Young Bucks got in on the fun and responded with a simple picture of a smirking Dave Meltzer. It was probably the best reply we could have imagined.
— The Young Bucks (@MattJackson13) September 21, 2017
Daniel Bryan was also asked if he would face Kenny Omega and where that match would go down. The Bearded GOAT responded by saying "yes, and in any big arena."
Kenny Omega didn't let that set very long before posting a gif of Arnold Schwarzenegger from Kindergarten Cop. Omega said him and Bryan have unfinished business.
Wouldn't it be great to get to see them finish it?
We've got unfinished business, you and I… 😒 Even in Japan, the people still shout. I can never go out… pic.twitter.com/nKETpTiR8V

— Kenny Omega (@KennyOmegamanX) September 21, 2017