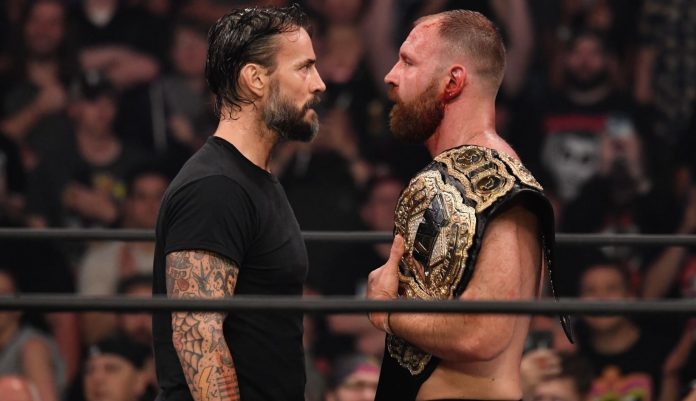 Last year was a pretty dramatic one for CM Punk as he won the AEW World Championship at Double or Nothing, then got injured. In Punk's absence Jon Moxley was crowned interim AEW World Champion and Punk immediately confronted Moxley when he returned.
CM Punk went on to face Jon Moxley in a champion vs. champion match on Dynamite, but Punk was quickly squashed by Moxley who became the undisputed AEW World Champion when he picked up the victory. Punk then went on to defeat Jon Moxley a few weeks later to win the AEW World Championship at the All Out pay-per-view.
Recently Dave Meltzer took to the Wrestling Observer message board to discuss the build for CM Punk vs. Jon Moxley and he implied that CM Punk wasn't down for the match.
"Do you know why they didn't advertise Punk vs. Moxley longer and why it had a short build? Because Punk agreed to it, then AEW got a legal letter saying he wasn't down with it and wasn't doing it and they didn't know if he'd come until Tony put his foot down. There are a lot of nice things I can say about him, and you can absolutely argue his position on Moxley was correct, but you can't argue he willingly did what he was asked in that scenario."
CM Punk then responded in a now deleted Instagram story where he explained Jon Moxley's idea for the title match while claiming that Moxley refused to lose to him. Punk also took a shot at Chris Jericho when he called him a "liar and a stooge."
"SIGH. I wasn't cleared to come back to wrestle yet. Then plan was to wrestle at the ppv. I sat and listened to moxleys Rocky three idea. I explained how I'd never seen a Rocky movie.I and thought the idea sucked but if the boss wanted to do it whatever. He said he wouldn't lose to me. I'd never experienced someone refusing to lose to me. I just laughed. I asked Tony if this was what he wanted. He said yes. He's the boss so I said okay but I'd need to be cleared first. They kept saying it could just be a squash so l didn't need to be cleared. I scoffed at that. My health i more important. Dave Meltzer is a liar. Jericho is a liar and a stooge. There were plans but plans always change but I'll never put a company above my health ever again."
He deleted it pretty quickly. Took video just as backup lol pic.twitter.com/pKX06WNiYS

— Danny (@dajosc11) March 23, 2023
Following the All Out main event CM Punk was reportedly involved in a physical altercation with The Elite which led to a number of people getting suspended. Since then there's been a lot of speculation regarding his status with the company, but both sides have mostly remained quiet on the subject until now. Stay tuned for updates.