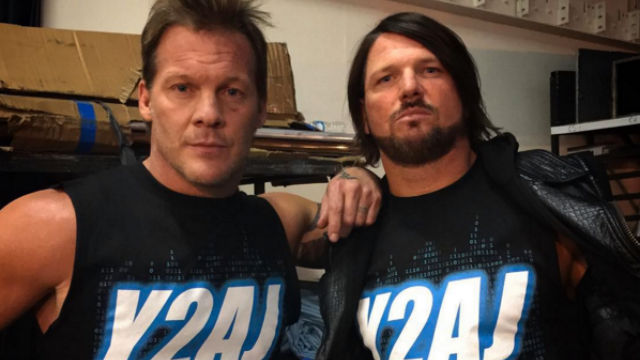 Chris Jericho won the WWE United States Championship at Payback on Sunday, but he joined the SmackDown roster on Tuesday and lost the belt to Kevin Owens in a rematch. After the match Kevin Owens viciously assaulted Chris Jericho, and Jericho has now been written off TV for a while.
Now the former United States Champion is shifting gears as he's out on tour with his band Fozzy, but he recently spoke to Busted Open about the WWE run that he just wrapped up. Jericho had some great matches and feuds throughout his last WWE run, and there's no denying that it was one of the best runs of his career.
One of the most memorable feuds Jericho was involved in during his most recent run was his feud with AJ Styles. Chris says he was excited to work with Styles because he knew he could help get him over with Vince McMahon, and he also said Styles is the "best in the world at this point."
"Guilty as charged on all accounts. When it was time for me to win, I would stand up for myself and say I need to get this victory. But most of the time it was putting over guys and you mentioned AJ [Styles]. I take great pride in the fact that when he came into the company, and I know how Vince thinks and that he doesn't care what people have done outside of the walls of the WWE, I knew that if I could work with him for a couple of months that I could help him with the small little things that he didn't know about WWE that he picked up in about two weeks. And also get him over with the boss right away. And that's basically what happened, and AJ is the best in the world I would say at this point. He was when he came in but still there was a little bit of a transition."
Jericho also praised Dean Ambrose, Seth Rollins, Kevin Owens and others, and he compared the current locker room to the roster of the early 2000s.
"And then working with [Dean] Ambrose and all the stuff we did with him tearing up my jacket and the potted plant and the thumbtacks and all that stuff was great. And then I transitioned over to Kevin Owens and Seth Rollins and I worked a while with Roman Reigns which was great and Sami Zayn and Neville, the list goes on and on. It was a great time to be in the business because the locker room is filled with great guys, young guys. It reminds me of the early 2000s when guys like me and Bully, Eddie [Guerero] and Chris and Dean, you know all the guys that were there at the time, the Hardys, Edge & Christian. Everyone wanted to work together to have a great match. Not that that ever changed, but it's really exemplified and amplified now with the locker room that we have. It was a blast to be there in the ring and learn from those guys, I changed my style a little bit accordingly, to kind of stay current. And also behind the scenes in the locker room after the shows…it was just a really great year and it's something that I'll cherish for the rest of my life. Whether I come back to the WWE or not, I'll always remember this year as one of the biggest highlights of my 27 years on the job."
He may be gone for now, but Chris Jericho has promised fans that he will be returning. Who do you want to see him feud with when he returns? Sound off in the comments below.