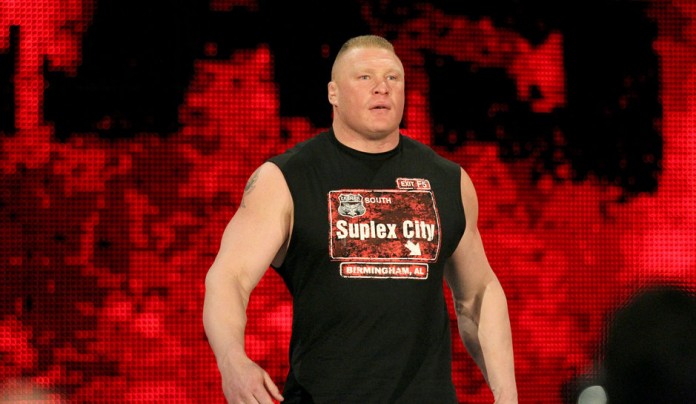 WWE brought their Raw crew to Dallas Friday night for an unforgettable live show. Before the event, some superstars took to social media to reminisce about how much Dallas means to them.
The last time I was in Dallas, I lost the #NXT women's championship. Tonight I walked into Dallas as #WWE women's champ. #KeepOnHuggin pic.twitter.com/Usm4sXKAlq

— Bayley (@itsBayleyWWE) February 18, 2017
https://twitter.com/sashabankswwe/status/832654196256206848
Okay, we're just going to get to the good part here and work our way from there. Brock Lesnar came out and absolutely destroyed an 8-man tag match that was already in progress. Outstanding. Outrageous. On point.
Brock Lesnar faced the Big Show during the event, and the crowd was nearly uncontrollable as the Beast Incarnate did his thing.
Big Show vs. Brock Lesnar #WWEDallas pic.twitter.com/2xRrTbTCKM

— Zachary Mayberry (@zdmay) February 18, 2017
https://twitter.com/sarahkarenxoxo/status/832784859873546240
Braun Strowman went up against Roman Reigns in the main event of the evening (Roman went over, big surprise there). The one thing that concerns us are all of the obviously empty seats in the building that are captured in this show. Wasn't WrestleMania just in Dallas last year?
It could be possible that there were a ton of people who left after Lesnar's match and just wanted to beat the traffic out of the building. Regardless of the reason, WWE still got their full ticket price whether they wanted to see Roman beat Strowman or not.
Braaaaaaun Strowman #WWEDallas pic.twitter.com/xL6c2KEAx6

— Zachary Mayberry (@zdmay) February 18, 2017
#RomanReigns vs #Braunstrowman #WWEDallas Credit.la_gourmet-(instagram) pic.twitter.com/2J5H7XTUbp

— Roman (@Fileana2) February 18, 2017
Main event. Braun Strowman vs. Roman Reigns. #WWEDallas pic.twitter.com/UcQhhBWFGs

— Zachary Mayberry (@zdmay) February 18, 2017
The New Day, Cesaro and Sheamus, and The Club had a ton of fun before their match. House shows are a lot of fun, if you haven't gone to one yet and get the chance, jump on that. These guys get to really relax and do what they do without the constraints of television taping restrictions like timing and spiking a certain side of the ring so the camera can get the right angle. Things are way more relaxed since Kevin Dunn isn't yelling at referees to tell the wrestlers exactly where to stand for the shot Vince wants.
https://twitter.com/sarahkarenxoxo/status/832778887104958464
There are a few more posts that we thought were really cool, but just didn't have the room to put them in the article above, but we're including them here because you guys are awesome.
U can't c me! #WWEDallas pic.twitter.com/e5BliIyddU

— Jody Bishop (@JodyCBishop) February 18, 2017
Great triple threat tag match but there is only one winner #TheClub @KarlAndersonWWE @LukeGallowsWWE #WWEDallas pic.twitter.com/sl1m8VLX5j

— Sean Rhodes (@Sean_Rhodes44) February 18, 2017
Brock Lesnar at #WWEDallas tonight, in which he interrupted an 8-man tag team match and cleaned the house. Typical strong booking for Mania. pic.twitter.com/hLMPsqk24f

— Mikey (@LesnarSupport) February 18, 2017
https://twitter.com/BayleyPromoWWE/status/832965734837874688
SPEAR THROUGH THE TABLE!! #WWEDallas @WWERomanReigns pic.twitter.com/XH8eG9OXFH

— Italo Santana (@BulletClubItal) February 18, 2017
https://twitter.com/SarahKarenXOXO/status/832799071089750017
AJ Styles has come a long way since making his WWE debut. He's a former WWE Champion and he's feuded with big names such as Roman Reigns and John Cena, but is AJ being buried? Some people out there seem to think so and we're talking about it on this week's episode of Still Real Radio which you can listen to below or on iTunes by clicking here.