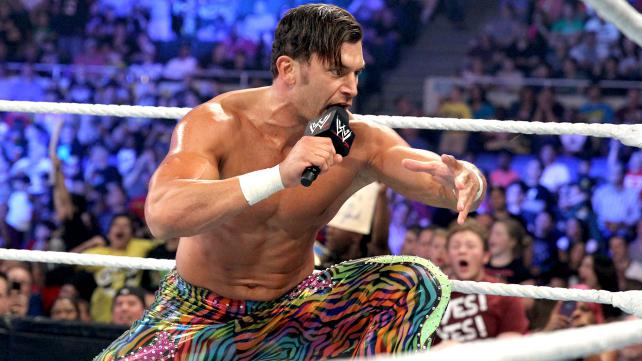 Time to show some love to the superstars that were saddled with terrible gimmicks and embraced them to the point where the character became believable.
This will be the first edition because lets face it WWE is known for strapping terrible gimmicks on their talent
So lets get to it…
FANDANGO: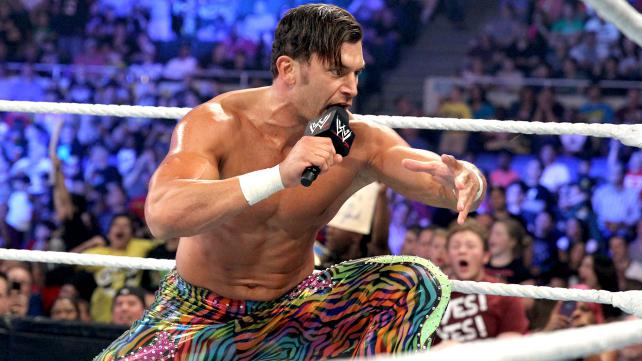 Or should I say FANDANGOOOOOO! If this ballroom dancer gimmick was handed to anyone else it would've bombed so fast. Just picture Curtis Axel trying to not smile while cutting a FANDANGO promo or shaking his hips with any conviction after a clothesline? Everything was really stacked against Mr. Dango from his Technicolor pants and vests, to his over the top entrance. Not to mention the pressure of his big league debut coming at WRESTLEMANIA. He could've easily wet down his leg. He could've not let the A's breathe. He could've botched his entrance or botched a spot in the ring on the GRANDEST STAGE OF THEM ALL. He could've…but he didn't. He took to the character like he was born to dance. He holds his own on the mic and can certainly hold his own in the ring. This character has the right mix of cornball and sleazy arrogance to make you want to see him get his nose kicked in. Kudos to Curtis for embracing a poor character and dancing his way onto the main roster for a long time.
I totally would've looked at a 6 foot 7 inch nearly 400 pound man and thought…hmmm he looks like a funk loving dancing machine. Ok probably not but that's exactly what the creative minds at WWE thought.( Ok to be fair, Brodus Clay debuted as Alberto Del Rios bodyguard which makes more sense than being a man from "Planet Funk")  When you take a step back and think about what was going through Clays mind when they gave him this character you start to appreciate what he has done with it. You know for a fact he thought this was probably never going to work, too far out in left field and I can't dance…but this once imposing monster has all of a sudden become a fun loving fan favorite with what looks like minimal effort. Which is really a credit to how good he is. He makes this character look effortless, he looks like he's having an absolute blast as the Funkasaurus. Which is probably a good thing because his recent teaming with Sweet T (Lord Tensai, Prince Albert etc….) seems to be here for a while. With the Tag Team division finally taking shape it is good to see a fan favorite team that also dabbles on the comedy side of pro wrestling but don't sleep on these guys because they can also become very intense in the ring. So I'll raise this shot to Mr. Clay for turning this not so promising character into something actually tolerable.
GOLDUST
There was only one man that could've taken this character to the limits it needed to go all while making his claim as a serious in ring performer. Only Dustin Runnels could've taken GOLDUST to the brink of disgusting but keep you engaged like he did. Everything about this character screams dud. It all starts with his ring gear. To this day it is still in my mind the ugliest, scariest, too revealing ring gear of all time and I've seen Big E Langstons butt cheeks for the past 3 Raws. The way Goldust talked was so creepy that you would cover your ears out of fear of him impregnating them. Goldust was the definition of captivating though. His promos were executed flawlessly and his matches were….uhh unique. You always wanted to look away while he was grinding on his opponents or gliding his hands up and down his own body but he gave you just the right amount of awkwardness for you to question his sanity. Which is exactly what he wanted. Nothing about this character should've been appealing to a wrestling crowd but because of the actual dedication Runnels thrust into his Goldust character it worked. He took what should've been regarded as a comedic character and turned him into a serious contender. I still think he should've wore looser clothing but despite what I think it worked.
Eugene: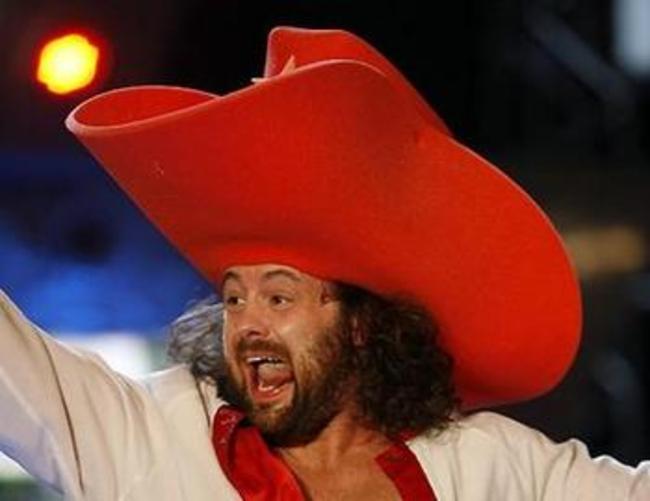 Eugene was Eric Bischoffs "special" nephew. The amount of dedication it took to make this character believable must've been painstaking. I don't see very many people jumping to play this role but Nick Dinsmore practically begged for it. He knew exactly what he wanted to do and that included lots of Hacksaw Jim Duggan tongue and Hulk Hogan poses. I thought he was perfect for the role. He brought a different kind of comedy to WWE at that time. His matches were always enjoyable and his random run ins with bigger stars like the Rock were just about always entertaining. If you don't remember Eugene just think if Santino Marella was a special needs adult and had more T.V. time.
So this will wrap up this edition but stay tuned for more…